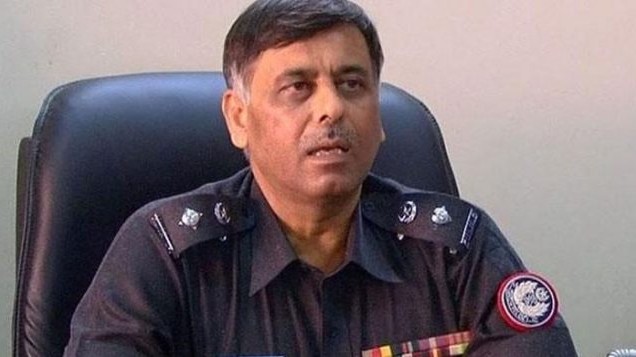 A senior Pakistani policeman, accused of a role in police killings surrendered to the Supreme Court on Wednesday after two months on the run, media said, in a case that has stirred anger about extra-judicial killings.
Rao Anwar, the senior superintendent of police in the port city of Karachi, was suspended on January 20 after four men were killed in a shoot-out with police.
Police initially said the men were suspected Islamist militants but later suggested the incident may have been an extra-judicial killing.
The shoot-out, in which police gunned down aspiring model Naqibullah Mehsud, has also brought to the fore the issue of racial profiling of Pakistan's Pashtuns, who say they are targeted and harassed because many militants hail from their communities close to the border with Afghanistan.
"Take Rao Anwar into custody," Chief Justice Saqib Nisar ordered police after Anwar appeared in court, the English-language Dawn newspaper said.
Television channels earlier broadcast images of Anwar, wearing a surgical mask and flanked by policemen from the Anti-Terrorist Squad, walking into the Supreme Court without handcuffs.
Anwar's arrest came after Facebook photographs of militant suspect Mehsud, posing with long-flowing hair in trendy clothes for amateur fashion photo shoots, cast doubt on police claims that he was a hardcore Islamist.
The Supreme Court on Wednesday ordered the formation of a team led by police officers, to investigate the killing of Mehsud. It has also unfrozen Anwar's bank accounts to ensure his children do not struggle financially, Dawn said.
Since Mehsud's killing, the issue of "police encounters", a euphemism for extra-judicial killings, has gained media coverage amid growing anger from the Pashtun community, which says its young men are unfairly and disproportionately targeted.
Police data from 2011 reviewed by Reuters show that at least 450 people have been killed in 200 clashes with police that involved weapons, during the seven years Anwar has been in charge of Karachi's Malir district.
The data does not detail the circumstances of the shootings, but the district has a large Pashtun population.
In January, Anwar told Reuters he had done nothing wrong, saying the investigation into his officers' actions could allow the Pakistani Taliban militants to regain a foothold in ethnic Pashtun parts of Karachi.
"I had no knowledge of Naqibullah Mehsud," Anwar said at the time. "My staff told me that he is a militant with a criminal history."