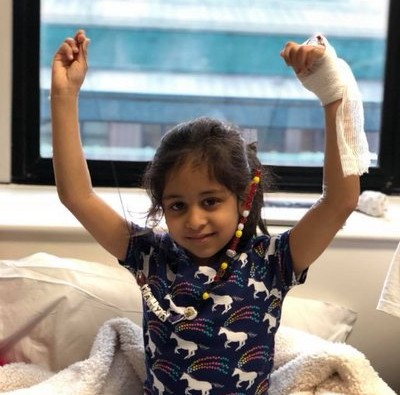 In the true display of the spirit of humanity, hundreds of potential stem cell donors have made it their mission to help a five-year-old girl with a rare and aggressive form of cancer. A 5-year-old girl Kaiya Patel, who is originally from Loudwater in Rickmansworth, was diagnosed with Acute Lymphoblastic Leukaemia.
After the shocking diagnosis at the Watford General Hospital, her parents, Ruchit and Annu Patel campaigned tirelessly to find a match. They have encouraged people to make a donation to blood cancer charities.
The Harrow Council was the one to come forward to organise the latest awareness drive with DKMS. Kaiya's father Ruchit spoke about the major problem in finding a doner as the people of an ethnically Asian background tend to have 30 % or lower chance of finding a match. Whereas the changes are higher for Caucasians.
Her father said: "I was devastated, it's heart-breaking, a huge punch in the gut."
"The strength of our little girl is inspiring, and our friends and family have been a great source of strength. I don't wish this on anyone."
There is a side of hope for little Kaiya as more than 350 people registered at the Harrow Civic Centre offering swab samples for Kaiya Patel.
Sreeparna Roy who is the DKMS donor recruitment manager, said: "The search goes on. We need to keep on looking for local matches and add to our register.
"It's a very simple process – potential donors need to give us three cheek swab samples – the process is painless and takes just a few minutes.
"Donors go onto the database and, if they are a match for someone, then they can save a life."
The next Harrow swab test drop-in for Kaiya will be conducted at Orley Farm School.