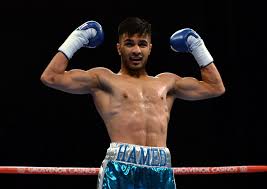 Hamed Ghaz moved to Bradford at 11 years old after suffering a difficult childhood in Afghanistan. The boxer whos record stands at 17-0 is yet to be defeated in the ring. 25 year old Hamed first put on a pair of boxing gloves at the age of 12. He has had successful amateur career before getting into the professional ranks at 18. Last month, Hamed competed in an English lightweight title eliminator against Liam Shinkwin – a Youth Olympics silver medallist and former national amateur champion. Hamed's success came in the 3rd round as he knocked out Shinkwin.
Hamed is now setting his sights on English champion Myron Mills to get further on the title trail. Although his life in Bradford is turning out pretty well, it could have been a very different story if he had stayed in his home country Afghanistan, which has been blighted by war for decades. Hamed is grateful to his father who had come to England to work and earn enough money so the rest of the family could join him. In Afghanistan Hamed played Taekwondo but had to give that up as it was too dangerous to travel to the local gym. In Bradford he couldn't find a Taekwondo club so started boxing which has given him his success.
"I was 11-years-old when I moved here. Growing up in Afghanistan, it was a difficult life for a young lad, with the war," Hamed told The Yorkshire Post. "My Dad came here before the rest of my family to work and try to give us a better life. "There was a period of time where he was working 20-hour days, just to make sure we could get here and have a better life. "Over there, things were so difficult. The education, the security – everything. My Dad sacrificed so much of his life so we could get here. "When I was 12, I started boxing. "Since then, I have been living in Bradford and I have grown up here. England has given me so much opportunity to achieve my dream. Boxing has been my life. "In Afghanistan, me and my brother did taekwondo but for security reasons we had to stop. "We didn't have a car and we would have to walk for miles to get to the gym, so we had to quit because there were bomb blasts everyday. "For that reason, my parents stopped us going there. "When we got to Bradford, we couldn't find a good taekwondo gym but one of my Dad's friends introduced us to boxing. "I had so much anger, frustration and energy in me and I wanted to take it out on something. "The day I walked into the boxing gym, I said 'this is it' – I wanted to be the best at this and achieve something really, really big. I wanted to make my family proud and my Dad proud because he sacrificed so much for us. "From that day onwards, I started boxing and set a goal to become a world champion."
Hamed's professional fights have all been in Yorkshire. Although most boxers dream would be of competing at venues such as Wembley or in America, Hamed's ideal venue is more closer to home. "My dream venue would be at Valley Parade. Hopefully one day, if I could get a world title then I could defend or fight for it at Valley Parade," he said. "That would be amazing. There aren't many big fighters that have come out of Bradford. I want to make the city proud." He told The Yorkshire Post.
(Image Courtesy: The Yorkshire Post)