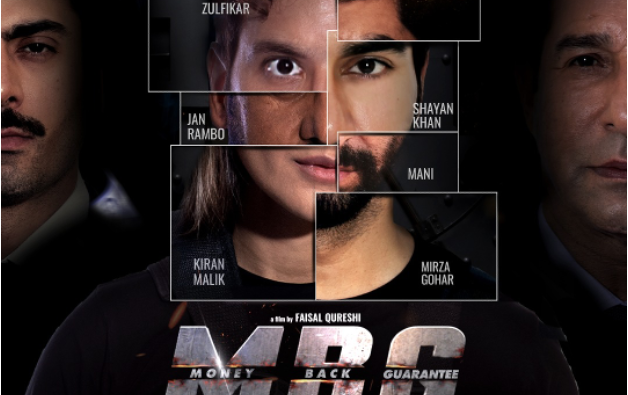 The  much anticipated theatrical trailer and poster launch of the action – comedy film Money Back Guarantee- MBG will be held on Friday February 17th 2023 at CUE Cinema Lahore.
Money Back Guarantee (MBG) is written by actor and comedian Faisal Qureshi and also marks Qureshi's cinematic  directorial debut. Qureshi also features in the film.
MBG, produced by Shayan Khan will be released  worldwide April 21st 2023 and  distributed by IMGC Global in  Pakistan  and  Zashko Films worldwide.
The Urdu-language film stars a plethora of entertainment bigwigs and celebrities including
veteran star Javed Sheikh, superstar Fawad Khan, Hina Dilpazir, Ali Safina, Shayan Khan, Mikaal Zulfiqar,  Mirza Gohar Rasheed, Hajra Yamin, Ayesha Omar, Faysal Quraishi and Jan Rambo. 
The film also features  Kiran Malik, Aqdas Waseem, Mani, Shafaat Ali, Marhoom Ahmad Bilal,  Adnan Jaffar and Ataullah Khan in supporting and cameo roles
Shot in Karachi and Thailand, MBG also sees the acting debuts of former captain of the national cricket team and cricket commentator/coach Wasim Akram and his wife social worker and activist Shaniera Akram. 
The theatrical trailer and poster launch  is expected to be attended by cast members  Shayan Khan, Faisal Qureshi, Fawad Khan,  Mikaal Zulfiqar, Ayesha Omar,  Mirza Gohar Rasheed, Mani,  Aqdas Waseem and Marhoom Ahmad, Bilal and leading  electronic and print media as well influential
bloggers and  leading publications.
Given the stellar cast and list of celebrities, there is no doubt that Money Back Guarantee
 is the most-awaited film of 2023!