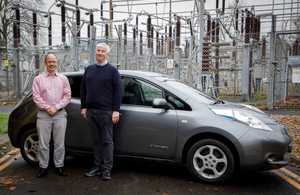 Control software used in fusion energy research has the potential to help grid operators cope with increased supply and demand, concluded a study by United Kingdom Atomic Energy Authority (UKAEA) and Oxfordshire tech start-up, Sygensys.
The six-month study assessed how fusion control software known has 'MARTe', can be transferred to the wider energy sector to help boost grid resilience.
The UK has seen an increase of renewable energy sources to provide cleaner energy while demand for electricity is expected to increase by 40 per cent over the next decade due to the rise in electric vehicles, heat pumps and other appliances.
Grid operators are facing challenges from the conventional use of synchronous generators as the UK progresses towards a smart grid model, paving the path towards decarbonisation of the electric power sector. Inverter-based resources, which are the primary interfacing technology for many renewable sources of energy, have supplanted synchronous generators in ever growing numbers.
Fusion science involves controlling extreme temperatures and pressures. One function of MARTe is to help control an entire plasma system comprising heating, fuelling, shaping and management of superconducting magnets.
Nizar Ben Ayed, Fusion Innovation Technologist at UKAEA, said: "There is a rapidly emerging need for improved control systems that provide system level control in addition to grid level harmonisation across generators and loads. This study has enabled UKAEA and Sygensys to explore the tech transfer potential of our fusion control software to help resolve grid stability issues and prevent blackouts."
Andrew Larkins, CEO, Sygensys, said: "To speed the transition to decarbonisation, systems must be easily maintainable, secure, and interoperable. MARTe certainly shows potential in all of these areas and could prove to be a real asset as it is further developed for commercial use."
As a result of the initial research with Sygensys, MARTe's user interface will be developed to help improve communication between operators and multiple devices, which will also benefit the fusion community. The software will be further assessed for potential applications in fusion adjacent sectors such as the automotive and space industries.
MARTe was first developed in 1995 at UKAEA and has been continuously improved since then to provide plasma control and protection systems for record-breaking fusion energy machine JET (Joint European Torus). It was made open-source in 2010 and has been adopted internationally for fusion research programmes, including ITER, the larger and more advanced version of JET.
Adam Stephen, Software Control Engineer at UKAEA, added: "Control systems must be easily maintainable, secure and allow users to communicate with multiple devices and applications in a coordinated way. The collaboration with Sygensys demonstrates MARTe's potential to help the energy grid on its journey to decarbonisation."
Fusion promises to be a safe, low carbon and sustainable part of the world's future energy supply. It has the potential to provide 'baseload' power, complementing renewable and other low carbon energy sources as a share of many countries' energy portfolios.