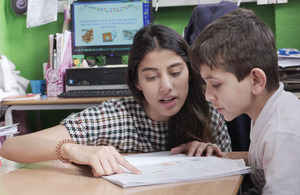 Children and young people across England with special educational needs and disabilities (SEND) or in alternative provision (AP) will get high-quality, early support wherever they live in the country.
The SEND and AP Improvement Plan published today (Thursday 02 March) confirms investment in training for thousands of workers so children can get the help they need earlier, alongside thousands of additional specialist school places for those with the greatest needs – as 33 new special free schools are approved to be built as of today.
The transformation of the system will be underpinned by new national SEND and AP standards, which will give families confidence in what support they should receive and who will provide and pay for it, regardless of where they live.
There will be new guides for professionals to help them provide the right support in line with the national standards but suited to each child's unique experience, setting out for example how to make adjustments to classrooms to help a child remain in mainstream education.
To improve parents' and carers' experiences of accessing support, the plan will cut local bureaucracy by making sure the process for assessing children and young people's needs through Education Health and Care Plans (EHCPs) is digital-first, quicker and simpler wherever possible.
This package forms part of the government's significant investment into children and young people with SEND and in AP, with investment increasing by more than 50% compared with 2019-20 – to over £10 billion by 2023-24.
Minister for Children, Families and Wellbeing, Claire Coutinho said:
Parents know that their children only get one shot at education and this can have an enormous impact on their child's ability to get on with life. Yet for some parents of children with Special Educational Needs and Disabilities, getting their child that superb education that everyone deserves can feel like a full-time job.

The Improvement Plan that we are publishing today sets out systemic reforms to standards, teacher training and access to specialists as well as thousands of new places at specialist schools so that every child gets the help they need.
The local authorities selected today to have 33 new special free schools built in their areas add to the 49 already in the pipeline. These new places come with the government's £2.6 billion investment between 2022 and 2025 to increase special school and alternative provision capacity.
There will be expanded training for staff, ranging from up to 5,000 early years special educational needs coordinators to 400 educational psychologists, covering a wide range of educational needs. The Institute for Apprenticeships and Technical Education will develop an apprenticeship for teachers of sensory impairments.
The £70 million change programme will work over the next two to three years with selected local authorities in nine regions, working alongside families to implement, test and refine longer-term plans – including new digital requirements for local authority EHCP processes and options for strengthening mediation.
The changes are also underpinned by a strengthened local authority inspection regime joint between Ofsted and the Care Quality Commission.
This plan follows extensive engagement with around 6,000 consultation responses and 175 events, ensuring the new reforms take into account the views of children, young people, parents and carers. The plan sets out a clear roadmap to transform the SEND and AP system and make it sustainable over the long term.
Minister for Learning Disabilities and Autism, Maria Caulfield said:
Everyone with special educational needs and disabilities deserves to live a happy, healthy and productive life – but we know there are often barriers to accessing the right support, especially for parents navigating the start of their children's educational experiences.

It is vital that health, care and education are working together properly from day one for people with additional needs, which is why we're making sure steps are being taken to better join up the system and provide support more readily for children and young people with special educational needs and for their families.
Children's Commissioner for England Dame Rachel de Souza said:
Children with SEND and their families have, for too long, felt penalised by a system that doesn't support their needs.

I am particularly pleased to see this plan's focus on early help, which will prevent families from reaching breaking point, and the increase in specialist school places so that many more children are able to attend a great school, every day.

I have called for children's voices to be at the heart of this plan, so I am encouraged by the move to make EHC Plans digital, standardised, and more focused on what each child wants.

Our focus must now be on delivering these reforms, in tandem with those for children's social care, and matching the ambition that children have for themselves.
Dame Christine Lenehan, Director of Council for Disabled Children said:
The SEND and AP Improvement plan has set out the DfE's understanding of the complexity and level of challenge that exists in the system whilst also acknowledging the difficult experiences of some children and families as a result.

CDC welcome the focus on early intervention and providing families support at the earliest opportunity which is key to ensuring needs are met effectively. It will be vital to provide strengthened accountability routes and to continue to focus on the improved experiences of children and families to ensure outcomes are met.

We look forward to continuing to engage children, young people and their families as well as practitioners across the SEND sector in ongoing opportunities to input into the plans moving forwards.
Additional measures confirmed today in the Improvement Plan include:
A new leadership level Special Educational Needs Co-ordinator National Professional Qualification (SENCo NPQ) will be created, ensuring teachers have the training they need to provide the right support to children.
A new approach to AP will focus on preparing children to return to mainstream or prepare for adulthood. AP will act as an intervention within mainstream education, as well as high-quality standalone provision, in an approach that meets children's needs earlier and helps prevent escalation.
An extension of AP Specialist Taskforces, which work directly with young people in AP to offer intensive support from experts, including mental health professionals, family workers, and speech and language therapists, backed an additional £6 million investment.
A doubling of the number of supported internship places by 2025, from around 2,500 to around 5,000, backed with £18 million of funding to help young people make the transition into adulthood.
£30 million to go towards developing innovative approaches for short breaks for children, young people and their families, providing crucial respite for families of children with complex needs. The programme funds local areas to test new services including play, sports, arts and independent living activities, allowing parents time to themselves, while their child enjoys learning new skills.