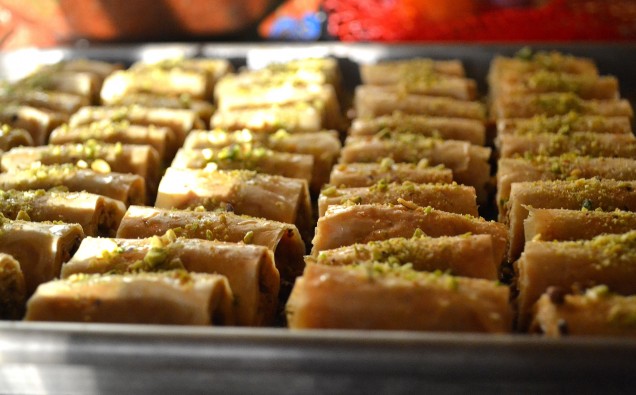 Recipes for Ramadan!
Method
In a small pot, dissolve sugar in water and bring to boil then simmer until it becomes syrup. Stir in lemon juice and set aside to cool.
To prepare the filling:
Combine all ingredients for the filling in a blender; beat until well combined and set aside.
To prepare the baklawa:
Grease a 40cm x 30cm oven tray, place 1 sheet of filo pastry, brush with butter and repeat the same with 5 more sheets.
Carefully spoon the filling all over the pastry.
Place 1 sheet of filo pastry to cover the filling, brush with butter and sprinkle with a little of almond mixture.
Top with another sheet. Sprinkle with little almond mixture and repeat method with the remaining sheets.
Brush the surface with melted butter, then cut parallel lines through pastry and filling to get diamond shaped pieces.
Bake in a 185°C preheated hot oven for 25-30 minutes or until it becomes golden color.
Pour the cool syrup over the baklawa as soon as it comes out of the oven.
Ingredients
2 cups sugar or 400 g
1 cup water or 250 ml
1 tablespoon lemon juice
For the baklawa:
15 sheets filo pastry, thawed if frozen
¾ cup butter or 150 g, melted
¼ cup caster sugar or 50 g
1 cup ground almonds or 100 g, mixed with the caster sugar
For the filling:
2½ cups pistachio nuts or 375 g
1 tablespoon blossom water
2 tablespoons rose water
1 tin Nestle Sweetened Condensed Milk or 397 g
3 slices toast bread, crust removed