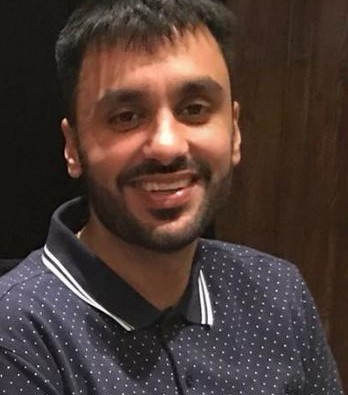 A Scottish Sikh man has been detained in India since last year without charge. Jagtar Singh Johal, 31, from Dumbarton went to India in October 2017 for his wedding.
Weeks later when the newlywed was shopping in Jalandhar with his wife, he had a sack thrown over his head and was forcibly taken away into a van by plain-clothed officers on 4th November 2017.
Indian police accused him of being linked to the murder of Ravinder Gosain, a member of the RSS (rashtriya swayamasevak sangh) Indian right wing party, who was shot dead in October 2017. He has also been accused of "influencing the youth through social media." Despite being detained for over 200 days, there have been no formal charges brought against Jagtar, and he denies the allegations.
His family maintain that he was a peaceful activist and not a militant; he contributed articles online highlighting the human rights violations committed against Sikhs at the hands of the Indian state.
His brother, Gurpreet, said: "It is not a crime to read and comment on human rights abuses. Many people comment and write about abuses which take place around the world, as a solicitor in the UK, I make submissions against human rights issues around the world, does this make me a criminal. It was alleged the crimes were all resolved on November 2017 however to date he has not been formally charged. He has been subject to torture, denied an independent medical examination and his right to a fair trial has been jeopardised by the Indian Authorities."
A handwritten letter from Jagtar was released by his family earlier this year detailing the torture that he has experienced at the hands of the Indian police. Jagtar wrote: "The torture took place intermittently, numerous times each day. Electric shocks were administered by placing crocodile clips on my ear lobes, nipples and private parts."
He continues, "My legs were pulled apart 4-5 times each time I was questioned, and this took place numerous times each day. After my legs were pulled apart, my legs would be pumped to give me temporary relief in order to ask me questions, which was followed by my legs being pulled again. The electric shocks would also be given at this time."
Jagtar also alleged in the letter that he was forced to record false statements scripted by the police, as well being forced to sign blank papers and documents that he was not allowed to read.
The Indian government also refused to allow British consular staff from meeting Jagtar in private.
The family of Jagtar and campaigners have said the treatment of torture that Jagtar has suffered "invalidates" the allegations against him by the Indian authority.
The British government has also been unable to make any serious breakthroughs with the Indian government. In April this year when Indian Prime Minister Narendra Modi arrived in the UK, Downing Street confirmed that Prime Minister Theresa May raised the issue of Jagtar's detention when the two leaders met.
More recently, Foreign Secretary Boris Johnson finally agreed to meet with Jagtar's MP, Martin Docherty-Hughes, to discuss the allegations of torture and mistreatment that Jagtar has undergone.
A spokesperson from the Sikh Federation UK commented, "We believe these public revelations demand that the UK government take the extreme action they promised MPs, or it will show they are too weak to protect an innocent British national from torture and death threats."
The case of Jagtar Singh Johal has also reached the attention of human rights officials at the United Nations, UN experts stated in January: "While we don't want to prejudge the accuracy of these allegations, grave concern is expressed at the alleged torture and ill-treatment of Jagtar Singh Johal in police custody."
Rupert Skilbeck, director of human rights organisation Redress, stated recently "It is imperative that India immediately launches a full investigation and address the concerns raised by UN special rapporteurs. As the details of Jagtar's treatment in prison emerge, it must be made clear that any evidence obtained through torture cannot be used in a court process against him."