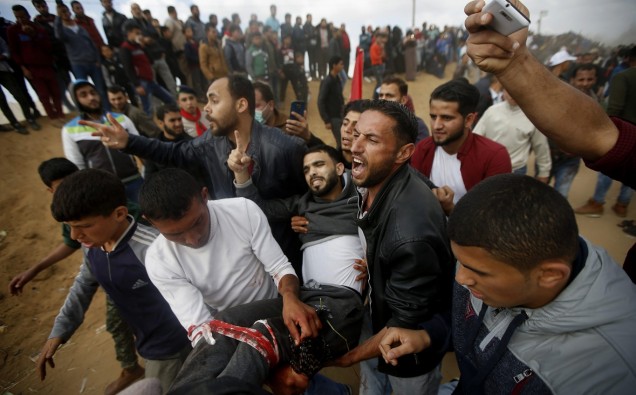 2018, saw the deadliest day in the Israel-Palestine conflict since the 2014 Gaza war began. Over dozens of Palestinians were killed by Israeli soldiers at the border.
It was estimated that atleast 17 victims were killed, including a 19-year-old, known as Abdul Fattah Abdul Nabi, who was shot dead, while running away from the Gaza border, with his back to the Israeli military.
The deadliest day began with the first day of a six-week protest, where thousands of Palestinians marched to the border, to claim their right to return to the land they believe had been taken from them by Israeli authorities.
The marches were organised by Hamas, who are a large Palestinian militant Islamist group, which seek to replace Israel with a Palestinian state.
The Palestinians pitched five camps along the border, which extended from Beit Hanoun in the north to Rafah in the south.  The Israeli Defence Force (IDF) doubled its number of troops in response. They used live ammunition, rubber bullets and tear gas, to keep thousands of Palestinians in Gaza from approaching the border fence.
According to reports, atleast 1400 were wounded and the 17 victims that died, where all men aged between 19 and 38.
Benjamin Netanyahu, Israeli Prime Minister, praised the military in the wake of the fatalities. He said:  "Israel will act firmly and decisively to protect its sovereignty and the security of its citizens."
According to The Times Of Israel, the military responded to protesters throwing firebombs and rocks at soldiers, rolling types at them as well as opening fire.
Israelis Defence Minister, Avigdor Lieberman had rejected global calls from human rights organisations, for an investigation into the violence. He said that military troops only fired at Palestinians who were posing a threat.
He added: "From the standpoint of the Israeli soldiers, they did what had to be done," Mr Lieberman told Israeli Army Radio. "I think that all of our troops deserve a commendation, and there won't be any inquiry."
He stated that, those who protested peacefully were not harmed. He said: "Whoever didn't get close to the fence was not shot."
However, Palestinians had accused Israel of using disproportionate force in response to the protests.
Palestinian Authority President Mahmoud Abbas said that Israel were responsible for the attack.
He added: "A large number of martyrs were injured in peaceful demonstrations affirms the need for the international community to intervene to provide protection for our people,"
The protest is expected to continue for the next six weeks, and a huge border march will take place on May 15th, 2018, which is known as Nakba Day among Palestinians.
Although, reports suggest that it is unlikely that a large-scale protest will continue daily, with large turnouts expected after Friday noon prayers.