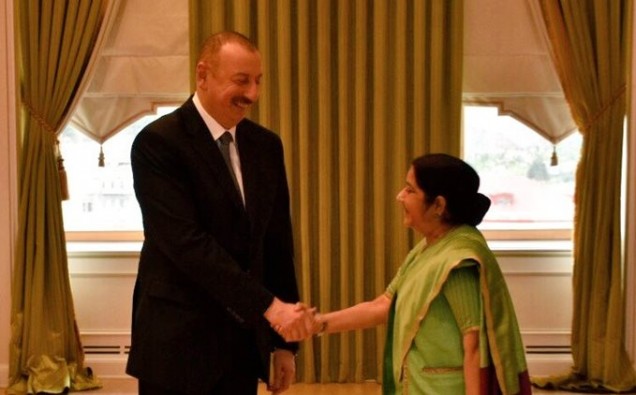 After calling on Azerbaijan President Ilham Aliyev, the External Affairs Minister Sushma Swaraj stated that two countries were committed to strengthening ties, which include trade, investment, connectivity and transport and culture and tourism. She also held talks with Mammadyarov and is expected to represent India at a ministerial meeting of the Non-Aligned Movement, which will be her first bilateral visit to the country.
According to Swaraj, she said that: "We had fruitful discussions that brought out the high-level of commitment on both sides to strengthening the relationship for the mutual benefit of the peoples of both countries,"
After holding talks with her foreign affairs, Swaraj has stated that two countries had taken stock of progress in bilateral relations and had even spoken of regional and global issues of mutual interest. He said that:
"India and Azerbaijan enjoy warm and friendly relations based on historical and cultural ties. Our countries share the values of democracy, respect for plurality and multiculturalism."
Bilateral trade between India and Azerbaijan has increased from around $50 million in 2005 to nearly $460 million during 2017.
Azerbaijan invited many Indian firms to set up joint ventures within the country for production of pharmaceuticals and medical products.  The countries claimed that since the opening of the Baku-Tbilisi-Ceyhan (BTC) Indian oil companies have been buying substantive quantities of crude oil.
When it comes to international issues, Swaraj stated that these two countries share the same view that terrorism in all its forms is a "global scourge that requires global action in the spirit of 'zero tolerance'".
They also suggest that the need for concerted efforts to deal with climate change and other common challenges.
With regards to moving forward, India and Azerbaijan have expressed their interest to partner in the field of agriculture.
Before Swaraj's departure from New Delhi to Baku, the Ministry of External Affairs had said in a statement that,  "The External Affairs Minister's participation in the NAM Ministerial Meeting will underline India's continued active and constructive engagement within the movement. To further strengthen solidarity and cooperation among the member states."