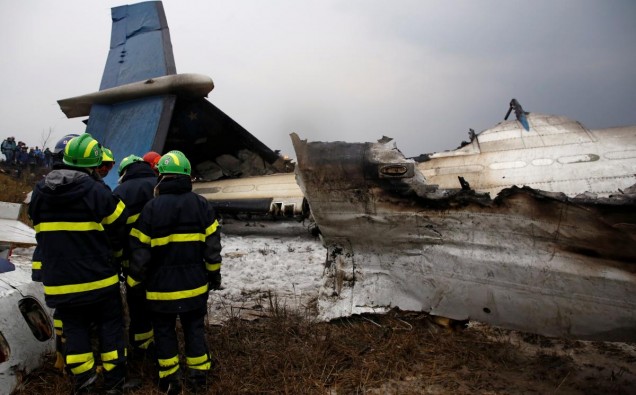 A Bangladeshi airline said on Tuesday (12/03/18) staunchly defended its two pilots aboard the plane that crashed in Nepal killing 49 people. The airliner had said both received special training to land at Kathmandu airport and had successfully handled previous flights.
The airline and airport authorities in Kathmandu have blamed each other in the aftermath of Monday's disaster. It was the Himalayan nation's worst fatality involving an airliner since the 1992 crash of a Pakistan International Airlines aircraft killed 167 people.
Flight operator US-Bangla Airlines said it was too early to make either party culpable, after a transcript of the pilots' radio conversation with ground control in Kathmandu revealed confusion over the designated runway.
Captain Abid Sultan and co-pilot Prithula Rashid died when their plane crashed short of the runway, breaking into pieces and catching fire, officials said.
"Sultan was experienced, quite familiar with the airfield and the aircraft," US-Bangla spokesman Kamrul Islam said. "Rashid was also specially trained to make landings at the airport. This is mandatory for any pilot to fly over there. She also made landings at the airport before."
Investigators have retrieved the flight data recorder from the wreckage, said Raj Kumar Chettri, the airport's general manager, and an investigation had begun into the cause of the crash.
The Bombardier Q400 series aircraft was carrying 71 people from the Bangladeshi capital Dhaka when it tried to land in visibility that weather officials said exceeded 6 km (4 miles), with cloud at one end of the runway and a light tailwind of six to seven knots.
A Nepali army official said one of the 22 survivors being treated in Kathmandu hospitals was to be discharged on Tuesday. Families of some of the victims mourned outside the hospitals.
There were 33 Nepali passengers, 32 from Bangladesh, one from China and one from the Maldives.