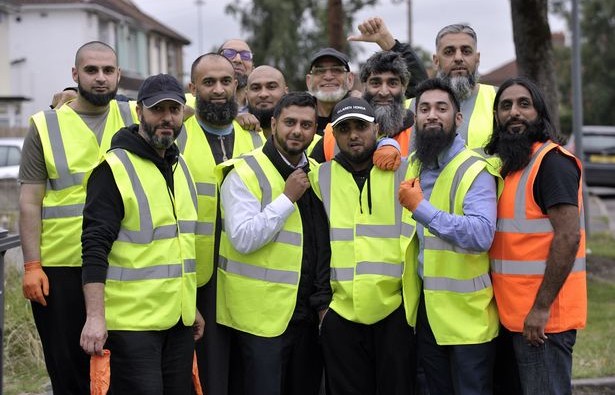 Community volunteers have pledged to make the streets of Small Heath more sanitary by removing the mounds of piled rubbish, which have accumulated over the six-week strike.
Local volunteers from the Birmingham based initiative, Bearded Broz, have been clearing the roads in hopes of ridding Birmingham of its rubbish.
Founder, Naveed Sadiq, has taken to the streets of Small Heath armed with rubber gloves and his fellow volunteers to aid the community that has been greatly affected by the refuse-worker strikes.
In an exclusive interview with Asian World, Founder Mr Sadiq said: "I came up with the initiative because this is getting out of hand and someone needs to take ownership of this rubbish – and we have decided to do just that.
"What we're doing is making the street safe. 90% of the pathway is now covered by rubbish, and people are walking in the road."
The fantastic efforts of the volunteers have not gone unnoticed, with many locals thanking them for their tireless efforts, despite a lack of funding.
Sadiq adds: We've been hiring the vans out ourselves without any government funding. One gentleman from Kenelm road said that he spoke to his neighbours and only 4 people were willing to donate.
"The rest said they were willing to wait for the council. So they're not looking to spend £3, which would collectively be hundreds of pounds. This is the mentality of our people.
According to the trade union Unite, the new plans affecting the working practices of refuse workers will leave more than 120 bin men jobless and workers who used to be paid £21,000 per year could face up to a £5,000 cut in their pay.
Refuse collectors began their strike to oppose the changes which resulted in uncollected rubbish left in the wheelie bins for weeks. The union has accused the Labour run council for being stuck on the conflict rather than finding a negotiation settlement, as well as criticising them for issuing redundancy notices to workers.
Steve McCabe, the MP for Birmingham Selly Oak, said, "I believe that both the council and Unite need to take a reasonable approach to the issues at hand and that more constructive talks need to take place."
Labour Mp Lisa Trickett, a Labour councillor, has issued an open letter to residents apologising on behalf of the Birmingham City Council.
The statement read: "In the final week of July we launched a three-week recovery plan to ensure we visited every street in the city at least once. Despite the huge challenge posed by the industrial action we have made great progress in tackling the backlog of missed collections. Lessons have been learnt through this contingency process that will be put into place if the dispute continues."
She continued: "It hasn't been easy, and I know your patience has been tested – we are all fully aware this is one of the few genuinely universal services we provide, so one missed collection is one missed collection too many."
Unite, the country's largest union has warned the Birmingham bin dispute could continue until Christmas. The union is balloting its refuse collection members to renew its industrial action mandate which could result in more strikes after the present daily strike action ends on 21 September.
Despite receiving gratitude from the local community, the bearded helpers have received a torrent of abuse, after an article in the Morning Star accused them of undermining the workers on strike, going as far as to label them 'scabs.'
The article read: "The community group, known as Bearded Broz, are encouraging people to join their scab operation as they undermine the strike by Birmingham City Council refuse workers over job losses."
Matt Bennett, Conservative councillor for Edgbaston, was outraged by the criticism. Taking to social media, he wrote: "What a disgusting way to refer to residents who don't want to live in filth,"
Imran Hameed, founder of the Salma Food Bank and avid volunteer, commented: "We've been called Scabs and all sorts.  I was on a forum and responded to over 250 messages saying 'we're not Scabs, we're not bin men, we're not paid to do this and we're not politically motivated. We're doing this because our kids are walking past this rubbish.' By God's will, I had responses at 3am saying 'Thank-you'.
This is not the Bearded Broz first social venture; the volunteer run service is working in conjunction with the Salma Food Bank, the only food bank in the country to supply immediate food relief.
Founder, Imran said: "With every food bank in the country, they're either a charity or they're government funded and we are neither. You don't require a food voucher to come to us, you phone us directly and we'll be at your doorstep within 3hrs."
Despite criticism, the Bearded Broz are receiving positive attention and are looking to expand their social venture.
Naveed continues: "We've just been catapulted to the other side of the world and back. We went from a voluntary meeting deciding to get our hands dirty and get the job done and the phones haven't stopped ringing. This is not where we stop."