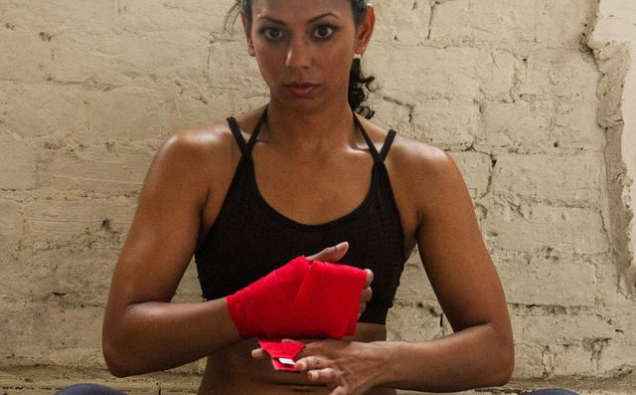 "I had a very strict Muslim upbringing," she said. "My family were very protective of me. So I felt like I couldn't tell them I was training in combat sports, because I thought they wouldn't allow me to. I was worried I would have to choose either the sport I fell in love with or my family."
Fifteen years ago, during her university years, Begum found a way to express herself through Thai boxing.
By the age of 19, she had won her first competition. However, she hid this from her family for five years.
She said: "When I was younger I used to make sure all the house chores were done, keep my mum happy and then ask her: 'Mum can I go to the gym for an hour?'
"Then I'd rush to the gym, get my training in Muay Thai done and run back home. My family didn't know what I was doing there." 202
"Once I finished university I had an arranged marriage which failed miserably," she said. "That led me to a low patch in my life and at that point I felt like I lost my identity."
Her fighting career suffered a further setback in 2010 when she was diagnosed with ME (Myalgic Encephalomyelitis), an illness she says she has been able to manage with a strict diet and training regime.
"My coach told me to see a specialist when we realised after one good training session I'd be in bed for a month," she said.
"After my arranged marriage ended, I decided to take my parents to the gym without telling them where I was taking them," she said.
"They felt guilty about what happened to me in my marriage. From there, I continued my journey as a Muay Thai kickboxer."
In 2016 she made history, defeating Sweden's Susanna Salmijarvi to become the first British Muslim woman to win a kickboxing world title.
Now aged 34, she decided to make the switch to professional boxing.
After signing with former heavyweight champion David Haye's Hayemaker Promotions, Begum drawed her first professional boxing match aired on Channel 5.
Begum says she wants to be a part of the uprising women's professional boxing scene, so she can continue to inspire a new generation of young British Muslim women fighters.
"I didn't have any doors open to me, it was a hard, long struggle over 10-15 years," she said.
"As a female, being able to do something and give others hope that nothing is set in stone and you can get through anything."