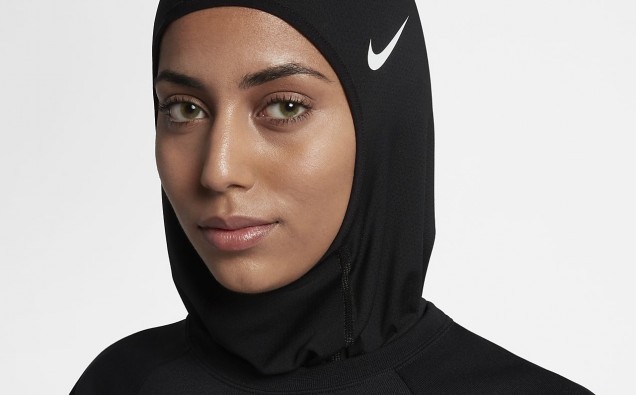 Nike has launched its Pro Hijab. It will be on sale in spring 2018, in three different colours. This is a collaboration between Nike and Muslim athletes in the Middle East. However, they aren't the first to bring out a sports hijab, and with Nike being one of the biggest sports brands in the world, it is a surprise they didn't bring it out earlier.
Nike have even released a new advert with women from North Africa and Middle East.  The video on the Nike Women YouTube channel has gathered over 1.5million views.
Sporting examples who have been seen wearing the new design include Emirati figure skater Zahra Lari and Egyptian athletics coach Manal Rostom. Nike's worldwide known 'swoosh' is displayed on the side of the lightweight breathable headscarf.
Nike spokeswoman Megan Saalfeld explained that the Pro Hijab was made "as a direct result of our athletes telling us they needed this product to perform better, and we hope that it will help athletes around the world do just that."
Nike isn't the first mainstream sports company to make a sports hijab and it is a shame it has come so late. In 2016, Oiselle designed the same uniform by hijabi sportswomen Sarah Attar from Saudi Arabia, who competed in the 2012 London Olympics.
This move was followed by Danish company Hummel who released new football kits for Afghanistan's women's football team in the same year.
Hijab in sports is not a new idea. Women have been wearing hijab for a very long time. Smaller companies such as Capsters started selling sports hijabs all over the world since 2001, and Canadian brand Resport also designed a scarf for Muslim women to wear. This inspired both, the international taekwondo federation and Fifa to overturn hijab bans, allowing Muslim women to compete in sports events in 2014. These smaller companies fought for diversity and won when big names like Nike and Adidas were just thinking about the idea.
Nike aren't the first or the last to implement the sports hijab, however the future certainly does look bright for current and future hijabi sportswomen.