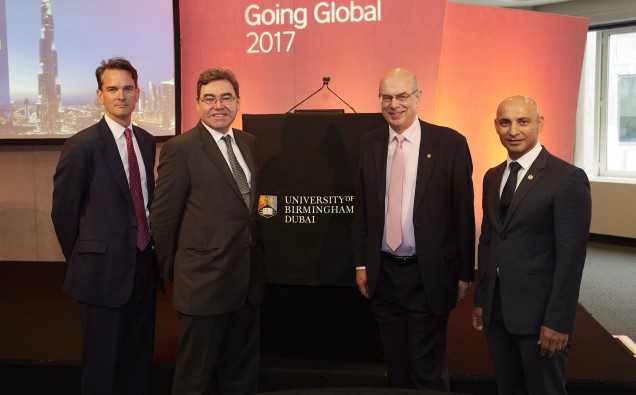 The University of Birmingham will open a campus in Dubai in November becoming the first global top 100 and Russell Group University to establish a campus in this rapidly developing international education hub.
Already recognised in the top 1% of universities across the globe, this landmark announcement marks the latest phase in the University of Birmingham's global expansion and builds on the University's international teaching activities in Singapore and China, and its extensive international research collaborations.
Following approval by the Dubai Government's Knowledge and Human Development Authority (KHDA), which is responsible for the growth and quality of education, the University of Birmingham Dubai will provide opportunities for students to study on a range of undergraduate and postgraduate programmes.  Initially, these will include Business, Economics, Computer Science, Mechanical Engineering, and Primary and Secondary Teacher Education, with further programmes to be offered subsequently.
The University of Birmingham Dubai will be located in Dubai International Academic City (DIAC), a leading international education hub with 26 universities.  The first phase of the campus will open in autumn 2017 and the first undergraduate and post-graduate students will commence their studies in September 2018.
With a strong tradition of teaching excellence, commended by the UK's Quality Assurance Agency for Higher Education (QAA) in 2016, degrees at the University of Birmingham Dubai will be taught, examined and accredited to the same recognised high standards as those delivered on the University's UK campus in Birmingham.
University of Birmingham Principal and Vice-Chancellor Professor Sir David Eastwood said: "For more than a century, we have been welcoming international students to our campus in Birmingham and for the last 20 years have been providing opportunities for students to study on University of Birmingham degree programmes at partner institutions, including in China and Singapore.  We have strategic partnerships in the USA, Australia, China, and Brazil and active research collaborations across the world. Opening a campus in Dubai is the next step in our global mission and demonstrates our ambition as an outward looking, world-class institution."
Dr Abdulla Al Karam, Director General of the Knowledge and Human Development Authority said: "We welcome the University of Birmingham to the happy and collaborative learning culture in Dubai. Known for its focus on positive education and wellbeing, the University of Birmingham will join 27 other private universities from 12 countries in a sector with 10 per cent annual student growth. Its education programmes will add to the wide range of courses offered in Dubai, and will prepare more young people for happy and prosperous careers."
Mohammad Abdullah, Managing Director of Dubai International Academic City added: "As Dubai International Academic City celebrates a decade of excellence, we are honoured to welcome one of the world's top 100 universities, University of Birmingham, to our vibrant and diverse higher education community. University of Birmingham's commitment to knowledge transfer through cutting-edge research makes it an ideal partner of choice, contributing to the enhancement of the UAE's vision of creating innovative and enduring solutions that meet the demands of key sectors of development such as STEM and Education. We are excited to strengthen our relationship with University of Birmingham and are confident that together, we can tap into world-class expertise and provide a truly global experience for students and faculty."