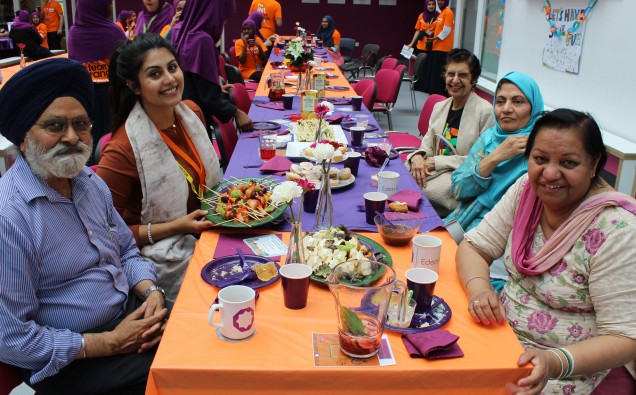 Wakefield based humanitarian charity Penny Appeal has been helping to create good cheer during the special month of Ramadan, together with staff and students from Eden Girls School in Coventry, as they arranged a community day, hosting a special party for elderly people living close by.
Both staff and students worked tirelessly throughout the morning of the visit, preparing food and entertainment for their elderly guests who joined them for the first time. "It was a privilege for us at Eden Girls to have chance to do this," said one student, "the amount of things we had to think about and prepare was overwhelming, but with support and encouragement from Penny Appeal, who we chose to support this event because of the amazing work they do in our community, it was a really enjoyable experience. Penny Appeal Fundraising Manager Haroon Mota told us all about the Penny Appeal at Home programme, and we realised that finding the time for a cup of tea and a chat with an elderly person, can make the world of difference to them, particularly if they live alone."
Once guests arrived, on transport provided, they enjoyed a busy fun filled day and enjoyed hand massages, quizzes and tours of the school before tucking into yummy treats prepared by students.
"Delivering the Mad Hatter's Tea Party in collaboration with Penny Appeal was a fantastic and immensely rewarding experience for all involved," said Zubair Khalifa, Faith Ethos Coordinator at the school. "Seeing the smiles on the faces of our guests gave us all a great deal of satisfaction that between us, we had made someone's day! The Penny Appeal statement: 'small change, big difference' was particularly apt.
One guest added: "what a wonderful day, organised to perfection. The girls are confident and charming, a real credit to the school. Thank you to everyone, what a wonderful day out."
Penny Appeal's 'At Home' programme, supports people across the UK and tailored projects provided by the charity which includes providing hot food or food packs to low income families and the homeless, caring for the elderly, distribution of care packs and gifts to sick children in hospitals, counselling services for domestic and sexual abuse victims, to name just a few. More locally, Penny Appeal works in partnership with Northpoint Church where they help feed the city's homeless people weekly. They also have several initiatives to support Syrian refugees in Coventry.
To find out more call: 03000 11 11 11.