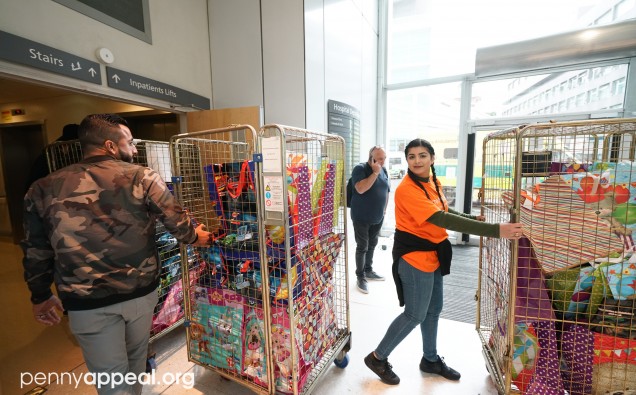 Wakefield based humanitarian charity Penny Appeal has been creating good cheer during the special month of Ramadan, raising spirits by organising parties and distributing gifts to children who are in hospital.
As part of Penny Appeal's 'At Home' programme, volunteers arrived with more than 100 bags, packed full of toys and presents for the babies, children and young adults receiving treatment at University College London Hospital (UCLH).
The volunteers spent time with patients, on several wards including teenage cancer, general adolescent, paediatric general, paediatric oncology and teenage and young adult cancer outpatients, decorating hands with Henna, face painting, make overs and balloon modelling made by Ms Ballooniverse for the younger ones, creating a real party atmosphere with arts and crafts. And it wouldn't have been a party without food, so patients and staff were treated to Samosa's and other delicious party snacks and treats served by Penny Appeal.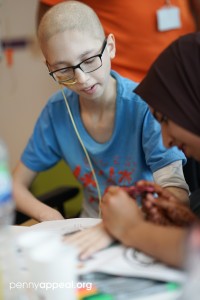 "The Penny Appeal Party was a huge success," said UCLH Play Specialist, Catherine Gardner. "Children, young people and their families and even the staff, all benefitted from the effort that the volunteers put in to throwing a brilliant party. Our patients, some of whom are in hospital for months at a time, all loved having something different going on and were delighted when they received a present!"
Harris Iqbal, Head of Programmes at Penny Appeal said: "It was a truly blessed experience and had real impact on the patients. We feel honoured to have touched so many hearts and that we have helped create some special memories."
Penny Appeal's Midlands Fundraising Manager, Haroon Mota, knows only too well what this means to patients, as he previously worked with the Teenage & Young Cancer Service at UCLH. "Illness is difficult for everyone, but young people are particularly vulnerable to the emotional psychological effects. I feel strongly that children and young adults in hospital deserve our time and care and therefore delighted that Penny Appeal offers so much support for hospitals and hospices across the UK."
Visiting UCLH is just one of the many programmes running over Ramadan. Volunteers are working tirelessly all over the country with similar projects and notably there will be parties and Gift Distribution at other London hospitals on 22 and 29 June.
Penny Appeal's 'At Home' programme, supports people across the UK and tailored projects provided by the charity which includes providing hot food or food packs to low income families and the homeless, distribution of care packs and gifts to sick children in hospitals, counselling services for domestic and sexual abuse victims, to name just a few.
To find out more call: 03000 11 11 11.