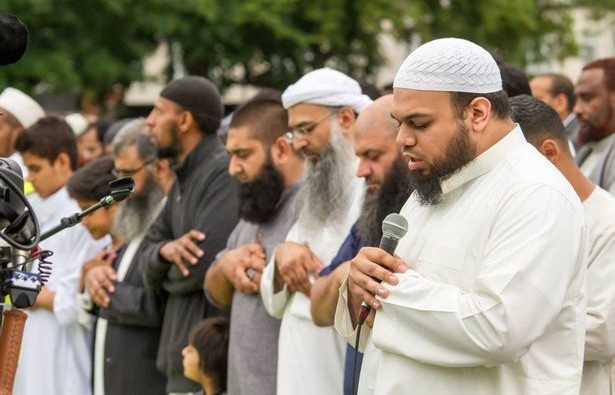 Thousands of Muslims gathered in Small Heath Park for the largest Eid celebration of its kind.
Record number of Muslims descended upon the local park in Birmingham for the Eid prayer to Mark the end of the holy month of Ramadan.
Organisers said over 106,000 people attended this year's event – more than the capacity of Barcelona FC's Nou Camp stadium.
Families from as far as the USA travelled by foot, car and mini bus to bow in prostration together while the resounding call to prayer was sounded.
The Celebrate Eid event, hosted by Green Lane Masjid and Community Centre, is now in its seventh year and has seen growing numbers since its first major event in 2012, where 12,000 people attended
A spokesperson for Green Lane Masjid & Community Centre, said: "This celebration is one of the most important in the Islamic religious calendar and it's an opportunity for us all to come together in peace and unity.
"We're all overwhelmed that so many people from different faiths and from across the world has travelled to Birmingham for this year's Celebrate Eid.
"We've been working for months with five local Mosques and our charity partner Human Appeal to organise the community for a memorable day of prayer, games and fun."
During Ramadan, worshippers raised a staggering £435,000 in a single night for international humanitarian aid charity Human Appeal. The money will go directly to the Saving Syria project, which is raising funds for orphans in the war-torn country.
Othman Moqbel, CEO of Human Appeal, said: "It is a great honour once again for Human Appeal to be part of Celebrate Eid; the biggest gathering of Muslims in Europe.
"As well as tragedy throughout the holy month of Ramadan, there has been unrivalled generosity.
"British Muslims have given so much to help those in need here in the UK and around the globe.
"This Eid we celebrate the generosity of the Muslim community."
Provisions on the day included free sweet treats and pink tea, which were given out to worshippers as the prayer was concluded.
Numerous stalls lined the parks walkways with beautifully adorned outfits and children's toys as well as fairground rides, clay pigeon shooting, miniature golf and rodeo bull riding.
Armed police were present on the scene for the first time in the seven-year history of the Celebrate Eid festival after the series of terror attacks which have been on a steady incline over the past months.
Well known speakers took to the stage to condemn the recent increase in attacks on the Muslim community. Before the prayer, Zaker Choudhry, a local Lib Dem councillor, told the crowd: "This is the true face of Islam. We are sending a message to the whole world that we are united against terrorism, united against hate."
John Clancy, leader of Birmingham city council, said the event was a "great, glorious gathering – a high point for this city". A quarter of Birmingham's 1.1 million population was Muslim, he added. "You are a crucial part of this city's DNA. Brummie Muslims built Birmingham."
Sarah Boycott, assistant chief constable of West Midlands police, urged people to report anti-Muslim abuse and attacks. "Some people in our community are not tolerant. Please tell us about it," she said.
The event came to an emotional end for Amer Ijaz, general manager of the Green Lane Masjid and Community Centre.
He said: "I've been planning this since November, and I haven't slept for the past four days. If anything goes wrong, it's all on my head."
"I feel quite emotional now it's here. A lot of members of the community are coming up to hug me. It's buzzing – really vibrant."