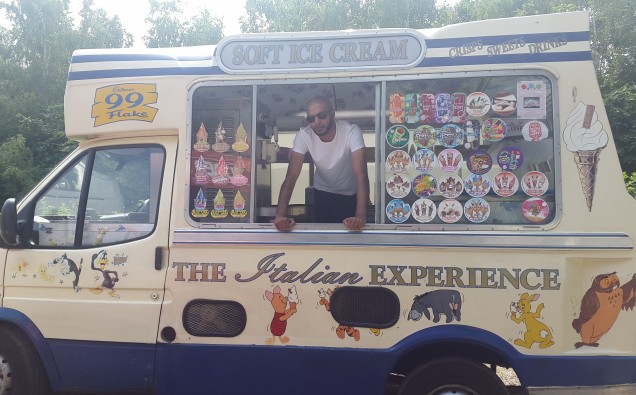 The ice cream van that was condemned for its untimely chime, gives back to the community.
A local Ice cream vendor redeems community relations, after being criticised for using an inappropriate Chime.
Junior Ices Birmingham, who were behind the van, recently offended locals after it was heard chiming the childhood classic rhyme 'London's Burning.'
Olton locals branded the use of that particular nursery rhyme as 'inappropriate' in the wake of the Grenfell Tower fire.
The issue was highlighted on the 'This is Olton' Facebook page, a public online group for people who live in the area.
Local resident, Ginny Phipps wrote: "Is anyone else finding the music the ice cream van is playing really annoying and inappropriate? Or am I overreacting?"
Andrew Sparkes added: "We mentioned it last night – entirely inappropriate. Tried to catch him last night to mention it – but failed. I'll try again today."
After being alerted by local neighbours, Owners were quick to replace the chime as well as apologising for any offence caused. They explained to members of the public that the chime had been installed in the van and had been in use many times before.
In an effort to bridge over the incident, the Ice cream van was seen supplying worshippers at Hall green Mosque with free ice creams from Iftar time to Sun rise, in a charitable effort.
Gee Hussain, family member of the owner, said: "After all the trouble, we rectified matters and had a lot of support from the residents of Olton and Solihull."
"Junior Ices Birmingham has been through a lot of issues lately, after being slammed by the Coventry Telegraph for playing 'London's burning' chime.
"We felt that it was inciting hate, as the chime for the van was already fitted. It isn't something that we chose to play; we replaced the chime and were back on the round."
Most users of the forum felt people were overreacting.
Gary Richmond said: "People need to get a life moaning about what music an ice cream van is playing."
And Jacqueline Denham wrote: "It's just a children's song and there have been many, many fires in London since it was composed. Poor guy is just unlucky to have it right now."