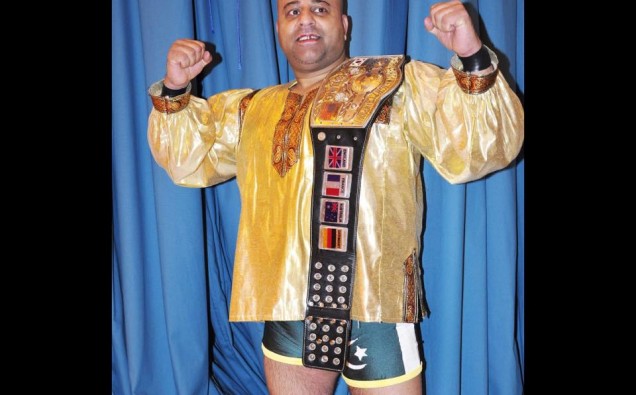 Pakistan Heavyweight champion of the world Shak Khan will be keeping on his toes while he arranges press conferences, travel and the venue of his upcoming, wrestling extravaganza which will commence in 2018. As Khan adds the final tweak's to what will surely be an awesome wrestling show.
Khan will travel over to Pakistan later this year with his opponent; Dangerous Dave Duran, who mentored Khan in the early stages of his career and the pair, will attend a press conference in Mardan City. The city of Mardan is where Shak Khan's tag team partner Khan Baba resides from and all major Pakistani TV and radio stations will be producing live coverage of the conference.  But before visiting Mardan, the champ will be meeting with a lot of important people in his hometown of Dadyal and these people are helping make this event possible, including the governor of Dadyal; Masood Khalid to discuss plans for the stadium and the former prime minster of Azad Kashmir Raja Haider Farooq Khan and it will prove to be a very busy and testing few weeks for Khan.
Having a huge fan base, Khan has been overwhelmed by the support people have been showing him as he has numerous pictures in and around the communities of Azad Kashmir and this has been very humbling for Khan, despite his huge achievements as a wrestler. This event gives The Beast from the East a chance to give back to the communities of his hometown and surely when the event comes round, Khan will have people trying to wrestle him for tickets and merchandise.
On to the future, Khan is determined to build a house of his own in Azad Kashmir, so he and his family can stay comfortable any time they visit Pakistan. Make no mistake about it the house is going to be as big as the upcoming event and we at Asian World News wish the Champ Shak Khan all the best for the future.