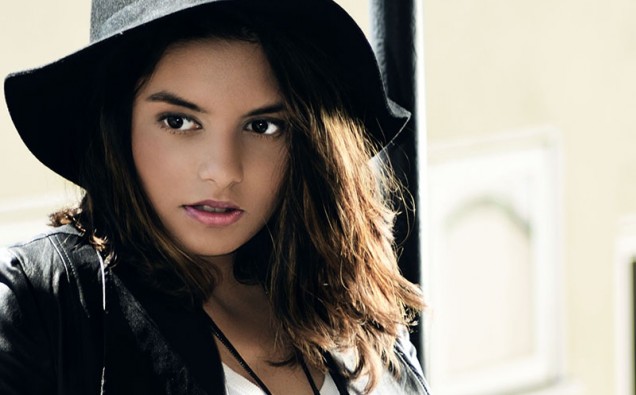 Teen sensation Shannon K returns with new emotion inspired album Perpetual
Born in India to the legendary Bollywood singer, Kumar Sanu, child prodigy Shannon K is bringing her brand of pop music to the world with her new emotion fuelled record, Perpetual.
Being the daughter of such a famed Bollywood icon may have its good points, but it hasn't always been easy for Shannon. Due to her Father touring a lot and being away from home for concerts, Shannon found that she missed him dearly and this was difficult to deal with.
Fortunately, her inherent talent as a singer and songwriter meant she could channel her feelings into music and this became the perfect outlet for Shannon. The young sensation first appeared on stage at the age of four, performing a classical Indian dance at one of her Father's concerts and her studies of the 'Kathak' dance form led to her featuring at the 2007 Bollywood Awards Night in Atlantic City, New Jersey.
Now, Shannon K is releasing her new album entitled Perpetual, which comes off the back of a number of successful previous releases including, 'Roll Back The Years', 'Sapphire' and 'Just Another Boy'. Shannon labels the album as her most emotional yet, addressing the way in which feelings can last a lifetime, as the title of the album suggests. Perpetual encapsulates a wide range of deep emotions and accesses them more fluidly through the medium of song. With a balanced combination of both party songs and sentiment filled love songs, it seems Shannon K has once again found a winning recipe with her music.
At the age of 6, Shannon relocated to London, before moving to the United States in order to showcase her music and singing talents to a wider American audience. Influenced by a number of notable artists such as Mariah Carey, Whitney Houston, Adele, Bruno Mars and Justin Bieber, Shannon has even used the Canadian pop superstar as inspiration for her song 'Pretty Eyes', which is taken from the upcoming album.
In the creation of Perpetual, even Shannon's younger sister, Annabel, has played a part, co-writing many of the songs with her sibling. However, in the past, Shannon has also worked alongside talented producers such as Andy Whitmore, Steven A. Williams Rishirich, David Tyrell, Tylor Lyons, Daniel George, Robert Farren, Bora Karaca, Buzzy and C.J Vanston, who have all helped her form her own unique musical style that encompasses both UK and US pop, blues, soul and ballads, all with a dash of Shannon's Bollywood allure.
Asian World speaks to the teen sensation about her journey so far.
When did you know that you wanted to be a singer?
Well, my father is a Bollywood singer, so it was obviously going to be in my genes. I guess music was just inside of me from the beginning. I took part in a music competition in school and I won first prize, that's when I realised that this is what I actually want to do.
What was it like growing up with a famous dad?
It's really cool, but there pros and cons to it. The pros are that everybody loves you and they're all very respectful. It's great to see how many people love dad and his fans are so supportive, it's really cool and over whelming. There are also cons, everyone always compares me to him, even though they shouldn't because I'm nowhere near my dad's talent, his career is even older than I am.
Was it your dad that inspired you to go into music?
It was my dad that inspired me to go on and try music. I used to hear his songs and the way he sang. The emotion he had was very interesting to me. He was a very big inspiration for almost all my life and he's still a huge inspiration to me because there's so much to learn from him. Apart from him, my inspirations are Whitney Houston, Mariah Carey, Bruno Mars and Arian Grande.
Who would be your dream collaboration?
It would have to be Bruno Mars because he's just the best. I love his songs, from the melody to the lyrics. He's got so much style in him which is so good to see. He puts a lot of time and effort into every song that he has produced. That would be my dream to work with him.
What was the inspiration behind your album 'Perpetual'?
I was inspired by a lot of different things for my album; I get inspiration from my surroundings when I write my songs and sometime I write things about my own personal life experiences. 'Perpetual' is all about mixed emotions, when I wrote 'I believe' and 'Running' it was mostly about my grandparent, who I lost at the age of 5, so I missed most of the affection that I craved so badly, I guess that emotion is reflected in those two songs.
I was inspired by my dad to write, he's not always with me because he's travelling around doing concerts, and I miss him as well. My other songs 'Lately' is for the girls who have had their hearts broken but know who they are, and it's about being independent, strong and beautiful all without a man.
There are all different kind of emotions and vibes in each song that is totally different from the previous one.
Was there a romance that inspired your songs?
Yes there was! There is one song called 'Pretty Eyes' and it was based on Justin Bieber's eyes. I was randomly watching his video and I got caught in his eyes, and got my notepad and started jotting down some lyrics.
So were your family supportive of your choice to pursue music?
Yes my family is always very supportive of everything that I do, they're kind of like my backbone. They're always there for me, whether it's my mom, dad or sister, these people are my pillars. My dad will always give me advice, even though he's not there with me personally; he's always there when I call. Of course my mom is with me 24/7 so she's always looking after me. My sister has helped me to write most of my lyrics, with her we're kind of like team mates, I'll always support her and she'll always support me. I'm very blessed and lucky to have a family like that who are so supportive.