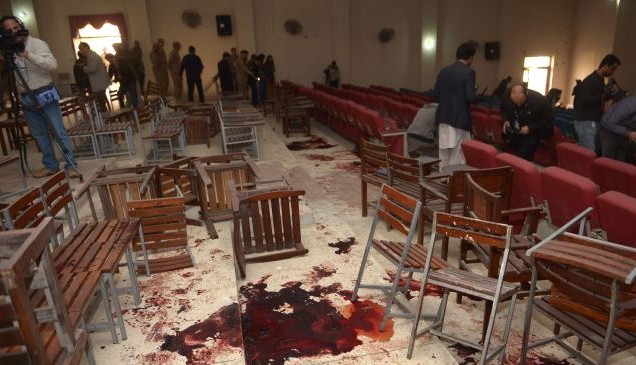 Nine people were killed and forty injured when an Islamic State bomber blew himself up outside Bethel Memorial Methodist Church in Quetta's high-security zone in Pakistan. A lot of the casualties were a result of the second attacker who fired upon the worshippers.
The second attacker did not detonate his bomb and after an intense exchange of gunfire was shot down by the police. 400 Christian's were attending the Sunday service and
had it not been for the police nearby and their quick response, there would have been many more casualties.
Mir Sarfraz Bugti, Balochistan Home Minister, said that on the basis of the weapons that the terrorists possessed it looked like they wanted to take hostages. Another official
said that the two attackers are believed to be of the age 16 and 20.
They each had 15kgs of explosives strapped to their bodies. The Islamic State has claimed responsibility for this terrorist attack. The terror groups Amaq News Agency uploaded online that the two bombers had attacked the church, but no further details were provided.
Pakistani officials as in the past deny these claims of this being an Islamic State influenced attack despite the group claiming it as one if its own. The attack came a few days before Christmas. Christians are an ethnic minority in Pakistan, and only 2% of Christians are currently living in Pakistan. From the 2002 grenade attacks in the
church in Islamabad to the bombings in the churches in Lahore, Christians have been targets of terror attacks in Pakistan.