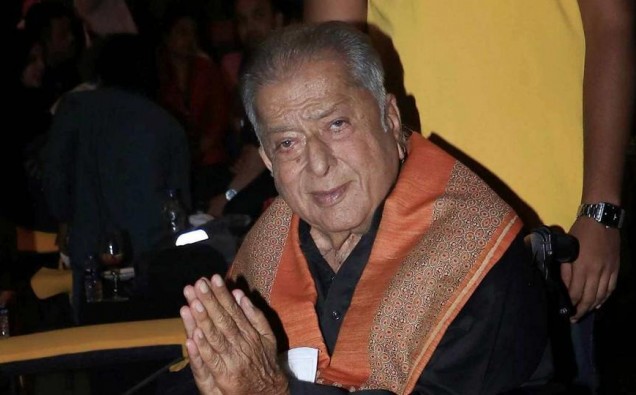 The BBC was suspect of racism once it showed a clip of the incorrect actor whereas paying tribute to screenland legend Shashi Kapoor.
Tributes poured in from all around the world for the actor who created one hundred films and died on Monday in Mumbai at the age of 79. His death created the BBC News at 10. However, the video tribute they showed caused fury as a result of it, the footage had shown fellow star Amitabh Bachchan by mistake.
It got worse once they additionally featured footage of actor Rishi Kapoor rather than his illustrious uncle. The BBC long-faced backlash on social media with users.
Actor and comedian Adil Ray were among viewers who took to Twitter to voice their complaints. The subject Khan star tweeted: 'Someone at the BBC thought the brown person in this VT is the same person. Worse still neither of them are the deceased actor who it refers to. It's poor when it would have taken them seconds to verify. Not enough care.'
Another @WritersofColour said: 'Hang on @bbcnews Shashi Kapoor has died not Amitabh Bachan or Rishi Kapoor. 'Another angry viewer wrote: 'Shocking to notice @BBC insults a veteran actor Shashi Kapoor by showing clips of @SrBachchan & @chintskap!!!@BBC should apologise!!! They have no clue.
Trishna Bharadia added: 'Did BBC News at ten show the Shashi Kapoor story however simply showed footage of Amitabh Bhachan and Rishi Kapoor? I am no Bollywood expert however that is what it gave the impression of to me. My sister thought Amitabh had died as well!?  And another Tweeted: 'I hope you now have a photograph of the real Shashi Kapoor? Poor man can't even rest in peace because the BBC credited another 'brown person ' with his work.'
Accepting the mistake, Editor Paul Royall apologised for the error. '#BBCNewsTen is very sorry wrong images were used to mark the death of Shashi Kapoor. Not our usual standards and I apologise for any upset,' he tweeted on Tuesday. Kapoor died at the Kokilaben Dhirubhai Ambani Hospital in Mumbai on December 4th.
He created his debut as a hero within the 1961 film 'Dharmputra' and went on to star in 116 films throughout the '70s and till the middle '80s. Some of his memorable films were 'Deewar', 'Kabhie Kabhie', 'Namak Halal' and 'Kaala Pathar'. He received cinema's prestigious Dada Saheb Phalke award in 2015.