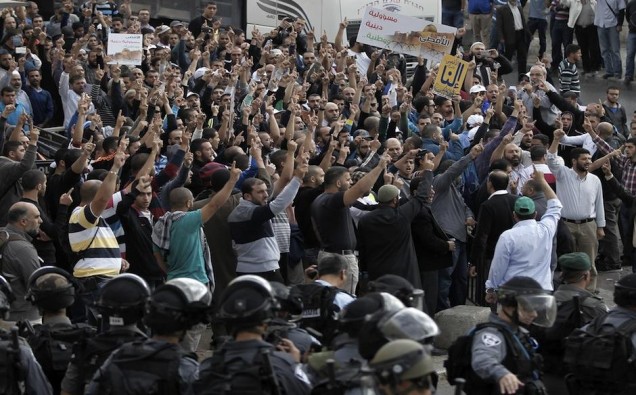 Over 100 people were injured as clashes broke out at the Al-Aqsa mosque in Jerusalem after Palestinians were allowed to freely enter the Temple Mount compound for the first time in weeks.
At least 113 Palestinians were injured, according to the Red Crescent, after Israeli forces used stun grenades to control the thousands of people rushing into the compound.
Palestinians flocked en masse into the revered mosque after the Islamic Waqf authority gave worshipers the go-ahead, lifting the prayer ban that had been imposed in connection with the metal detectors and proclaiming "the new era of victory."
Palestinian Authority President Mahmoud Abbas said in a TV address that "noon prayers will take place at the Al-Aqsa mosque."
"We will sacrifice ourselves for Al-Aqsa!" the worshipers chanted, Reuters reported, with several of them climbing atop the mosque to erect Palestinian flags there, which were later removed by Israeli troops.
Israeli officials discarded additional security measures, including cameras and metal detectors, which were installed at the Temple Mount after two Israeli Arabs killed two police officers at the holy site.
The security measures had sparked heated protests and violence, which saw four Palestinians and a family of settlers killed.
Worshippers entered Al-Aqsa for the first time in almost two weeks, but tensions reportedly arose when Israeli forces refused to open one of the gates.
According to sources cited by the Times of Israel, police at first opened, then closed the gate, before reportedly firing stun grenades to disperse the crowd. The gate was then closed and the area cornered off.
Palestinian President Mahmoud Abbas suspended all ties with Israel on Friday after deadly clashes erupted between protesters and Israeli police. Protests broke out after Israeli authorities installed security cameras and metal detectors at the revered Al-Aqsa Mosque, Jerusalem's most sensitive holy site.
Temple Mount, or Haram esh-Sharif as it is known to Muslims, is one of the most contested religious sites in the world. For Jews, it is believed to have been the site of two biblical temples; the Al-Aqsa Mosque on the hill is Islam's third holiest site.
The Arab League has warned Israel about crossing "a red line" in the ongoing Israeli-Palestinian conflict over the sacred city of Jerusalem. Meanwhile, an Israeli minister said the metal detectors that triggered the violence will remain.