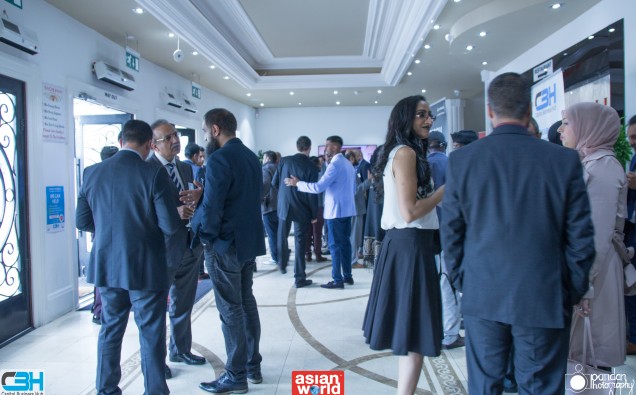 Capital Business Hub launched its inaugural networking event on the 26th of July, welcoming over 100 business owners including some of the most established and prominent names in the Birmingham entrepreneurial community as well as a whole host of new and small businesses owners.
Hosted in one of Birmingham's most established and popular venues, crowds gathered at Badshah Palace in Great Barr in anticipation of a cooperate, inspiring and motivational event, and they were not disappointed.
Guests were welcomed by a fleet of the most luxurious Lexus cars including the Lexus LC500H, which is the only one of its kind to grace the Birmingham streets, courtesy of John Stanton, Business Centre Manager at Lexus.
Hosted by National Director, Shukeel Chohan, the networking event began on an energetic note with an insightful Introduction of the attending business parties, including main sponsors, Wildings Solicitors.
Attendees were privy to some valuable insider information after Neelam Afzal, senior Birmingham lawyer and head of Wildings Solicitor's employment law division, launched an exciting new HR support scheme called Retain & Assure at the event, which is a comprehensive and cost saving package for SME's that caters for all employment, law and HR issues from litigation matters, disputes and redundancy planning.
Guests were treated to an inspirational keynote speech from one of the finest business speakers in the country. Bilal Jamil, an award winning keynote speaker and conference facilitator helped guests to unleash their hidden potential by igniting a fire from within and aiding them to combat their public speaking fears.
The business savvy attendees had the chance to become better acquainted and network with one another over a decadent 3 course meal, and with a wealth of knowledge and acumen all under one roof, there was much to be gained.
Presenter, Shukeel Chohan, concluded: "I have always been an advocate when it comes to business networking because I truly believed in the power that comes from developing and establishing new contacts through face to face interaction. If you want to grow or promote your business and create new opportunities then get in touch with me or any member of my team and we'll be delighted to connect and show you how you can take advantage of CBH."
CBH is based in Birmingham and run by a group of business savvy professionals with the insider know-how to elevate your business to the next level.
We at CBH have created a gateway for organisations from all sectors seeking to target the West Midlands business community. Our platform provides a place to share experiences and learn from top business leaders in the industry.
Birmingham has the largest concentration of businesses outside of London and CBH is open to all businesses and sectors based in the city. Contact us today to find out how membership with us can help your business flourish.
So get in touch to find out how membership with Capital Business Hub can help you.