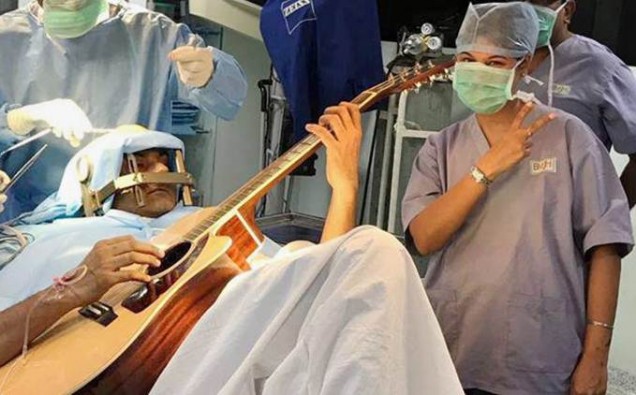 By Spandan Manwatkar
News Correspondent
An Indian musician Abhishek Prasad had to play guitar on the Operation Table while he was undergoing brain surgery to treat involuntary muscle spasms.
Mr Prasad was suffering from musician's dystonia, a rare neurological disorder, which made him unable to move his middle, ring and little finger of his left hand. He was given local anaesthesia and the surgery took seven hours to complete and he had to strum the guitar every time doctors "burnt" a circuit in his brain as the spasms occurred only when he played guitar, reported BBC.
"By the sixth burn, my fingers opened up. I was normal on the operating table itself," Prasad said, talking to BBC about his experience.
"I was advised to undergo brain surgery, but I got scared. But my doctor, Sharan Srinivasan, gave me the confidence to do it," he added.
Mr Prasad had been suffering since October 2015 and had previously visited numerous other doctors. He was told that it was simply a muscle fatigue and could be cured through painkillers and physiotherapy.
However, when Mr Srinivasan made clear that he would need a brain surgery, an MRI scan was conducted to assess how deep the electrodes could be inserted to correct the circuits in the brain.
Describing his experience to the Times of India, he said, "I was amazed to see my fingers improve magically on the operation table itself. By the end of the surgery, my fingers were 100 per cent cured and I could move them like before."