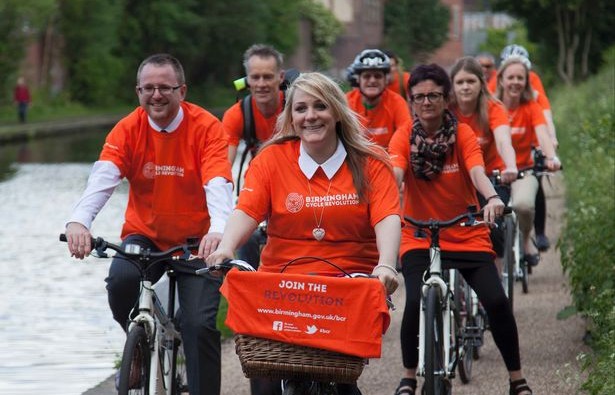 Big Birmingham Bikes (BBB), a pioneering Birmingham City Council scheme to get residents onto two wheels, has jointly won the 2017 Ashden Award for Clean Air in Towns and Cities.
BBB offers free bicycles to Birmingham residents living in deprived areas. Recipients also receive basic training in cycle maintenance and BBB provide lessons for those who lack confidence in cycling or have never ridden a bike before.  The scheme is part of Birmingham City Council's Birmingham Cycle Revolution (BCR), which aims to make cycling an everyday way to travel around the city, which in turn brings significant health and environmental benefits.
The Ashden Awards are given to pioneers in sustainable energy and are a globally recognised measure of excellence. Along with 12 other organisations, BBB will receive its Award on Thursday June 15 at a prestigious ceremony at the Royal Geographical Society in London. Former Vice-President of the US Al Gore is the keynote speaker and Channel 4 presenter Krishnan Guru-Murthy will host the Awards.
BBB shares its Award with Nottingham City Council, which is funding greener transport through a workplace parking levy.
According to the Ashden judges: "This inspirational project is not only getting people out of their cars and onto their bikes but is also improving the health, wellbeing and mobility of an often hard-to-reach demographic. There is huge potential to replicate the scheme and other cities should take note as its simple pragmatism could really help to reframe the national environmental debate."
BBB is targeting people in some of the most deprived areas of Birmingham and is linking up with community groups, including homeless and mental health charities, to ensure that the bikes reach those who will benefit from them most. Bike recipients are from a broad range of cultural groups including some for whom bike riding is uncommon, particularly for women from black and ethnic minority backgrounds.
Thanks to BBB's work, 11 new recreational cycling groups have sprung up. BBB is also leading practice rides along popular commuter routes to encourage people to use the bikes as a means of transport as well as for enjoyment. This can be a big help for those looking for work as it can enable them to access training and job opportunities when no other transport options are available.
Additionally, fully segregated all-weather cycle lanes are being installed on both the A38 between the city centre and Selly Oak and the A34 between the city centre and Perry Barr as part of the next phase of the Birmingham Cycle Revolution to encourage more people to cycle in safety and confidence along two of the city's most important commuter routes.
GPS devices are included in every bike and the data collected can be viewed by owners who want to track their rides and is also used to enable the Council to provide infrastructure such as bike lanes or bike parking facilities where cyclists need it most.
So far, 3,400 bikes have been given out to individuals as well as an additional 600 distributed to community groups and bike hubs, which are then loaned out free of charge. BBB plans to distribute around 1,500 bikes a year for the next four years, meaning that approximately 10,000 will be in use by the end of 2020.
Councillor Lisa Trickett, cabinet member with responsibility for air quality at Birmingham City Council, said: "Everyone has the right to clean air and in Birmingham we are working to improve air quality for those who visit, live and work in the city. A key part of this work is encouraging people to think about the way they travel and choose a cleaner, greener alternative, such as cycling.
"While Big Birmingham Bikes is primarily aimed at those for whom no other transport options are available, it is nevertheless an important part of the innovative work we are doing to promote and encourage a culture of cycling in our city, bringing benefits both to the environment and people's health. I am delighted that this work has been recognised with this prestigious award."
UK Ashden Award winners receive a prize of up to £10,000 along with tailored support to help scale up their work.