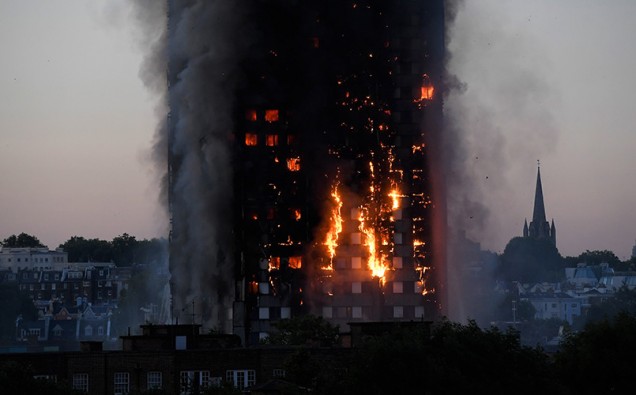 17 people are confirmed dead and more than 50 have been injured after a west London tower block went up in flames in the early hours of the night.
Up to 600 residents were believed to have been inside the 24 storey building, in north Kensington, when the blaze began.
Fire-fighters were called to the block on the Lancaster West Estate last night at around 1.15am.
Eye witness accounts recall people screaming for help with some holding children from windows and others jumping from upper floors. Some residents were reported to have attempted to use bin bags as makeshift parachutes.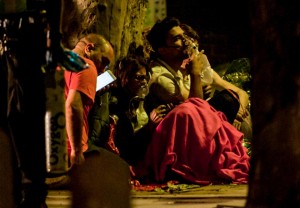 A horrified witness described how a baby was dropped by a desperate mother "from the ninth or tenth floor" and was caught by a hero bystander below.
She said: "People were starting to appear at the windows, frantically banging and screaming.
"The windows were slightly ajar, a woman was gesturing that she was about to throw her baby and if somebody could catch her baby.
"Somebody did, a gentleman ran forward and managed to grab the baby."
Pictures of the inferno show large flames and plumes of smoke which were visible into the night, while others showed desperate residents looking out of windows in the block.
As authorities probe deeper into the cause of the fire, it was revealed that fire alarms had not sounded in the building and that residents were told to "stay put" in their flats.
An action group have commented that the Grenfell Tower fire was an accident waiting to happen, after bringing it to attention of authorities over four years ago, but the group claim their warnings fell on deaf ears.
Grenfell Action Group said: 'We have posted numerous warnings in recent years about the very poor fire safety standards at Grenfell Tower and elsewhere in Royal Borough of Kensington and Chelsea.
"All our warnings fell on deaf ears. This was inevitable and just a matter of time."
Fire chiefs have said a structural engineer is monitoring the stability of the building, which "continues to be safe for our crews to go and work in".
London Fire Commissioner Dany Cotton added that it was too early to speculate on the building, although it was structurally safe enough for her crews to be working inside.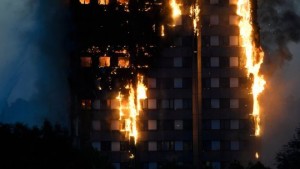 Survivors of the blaze are still reportedly being pulled from the block nine hours after the fire had begun.
London Mayor, Sadiq Khan commented on BBC Radio 4's Today Programme, saying: "It's very distressing, not just for those of us watching as lay people, but also very distressing for the emergency services.
"We declared a major incident very early, which meant not just the fire service but also the London Ambulance Service, the police and the others were involved at the scene."
Mr Khan added: "One of the concerns that we have is it's a 24-storey building but for obvious reasons, with the scale of the fire, our experts weren't able to reach all the way to the top, so of course these are questions that need to be answered as soon as possible."
According to the latest Home Office figures, there are almost 7,000 fewer fire-fighters in England than there was five years ago, resulting in longer response times and a 25% fall in the number of fire prevention visits.
The cause of the horrific blaze is yet to be distinguished and fire-fighters are continuing efforts to rescue victims from the building.