 I wanted to book a weekend break away for my husband's birthday; I came across Novotel Hotel in heart of Cardiff in Wales. According to its website, it is a 4 star hotel and had some pretty good reviews and feedback on Trip Advisor and many other sites whilst researching this hotel. I was pretty impressed by the comments and therefore decided to place a reservation to explore it for ourselves.
The journey took 2hrs17mins by car from Birmingham to Cardiff which was not too bad as 111 miles wasn't a very long journey. Whilst en route to Cardiff, we came across many spectacular views of Wales- the scenery was quite breathtaking as we crossed the River Wye into Wales.
We arrived in the capital of Wales, Cardiff at 9.05pm; we drove through the city centre and we came across many manufacturing plants and industrial units as Cardiff was once known for the world's largest coal exporting port.
Upon our arrival to our hotel, we came across a red brick and glass exterior modern looking hotel which was very close to local amenities such as local shops, restaurants, clubs, cinemas, Cardiff City Shopping Centre and South Wales University. This was an ideal location for many students as they had access to everything which was only a small walking distance. The hotel was also very closely located to the hugely popular tourist attractions: Cardiff Castle, Cardiff Bay, Millennium Stadium and National Millennium Centre which was about 15 mins – 20 mins in walking distance and 0.9 miles by transport. This was also great for the visitors as they wouldn't get lost or wouldn't need to travel any further than they already did.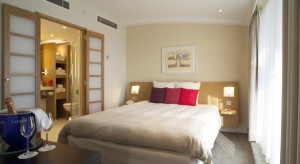 Once in the hotel, we were greeted by a pleasant car parking attendant who showed us where to park the car overnight. The car park was quite a large in size and had ample car parking spaces for about 120 cars which were very good as the hotel could accommodate up to 250 guests. It was in much lit area and quite safe as security guards were always present in the car park.
As soon as we walk in, we see a very grand entrance at the reception area as this place was buzzing with people who were seen relaxing and talking away at various places throughout the Hotel. We met this very pleasant lady at the reception area who checked us in very quickly with a little or no problem. The receptionist gives us a very brief and a quick tour of the Hotel as she showed us the many facilities that were available to us at the Hotel. These facilities ranged from an indoor heated swimming pool, sauna rooms, jacuzzis and fitness centre all of which can be used as many times as we wanted. The receptionist I found was very welcoming and helpful as she gave us all of the details that we needed for our overnight stay and for the visiting the many popular tourist attractions that were available to us at Wales in Cardiff.
Novotel Hotel had very kindly given us a free complimentary executive suite on the third floor which was an added bonus in staying in this hotel. This executive room was very spacious, clean, well sized room; it had a double bed, ensuite bathrooms, separate toilet, dressing table and a cosy sofa. Furthermore, with its lightly coloured walls and carpets it had all the perfect ambiance for not only relaxing and getting comfortable but more importantly enjoying your overnight stay. This room was fully equipped with all the modern fixtures and fittings; these ranged from minibars, Nespresso Machines to Flat Screen TV, Free Wi-Fi and Bose iPod Speakers. It was perfect and an ideal room for couples or two people to stay in.
The next day as part of our stay, we also had access to the free breakfast buffet- this had all the breakfast options that you can possibly think of from juices, to cereals, bread and other delicacies. We thoroughly enjoyed trying out the Welsh breakfast menu in the nicely presented restaurant. Finally we just about had time for some hot drinks before we checked out of the hotel as we sat to drink coffee in the cocktail bar / lounge. This cocktail bar had private seating areas with huge red leather seats and was bright and airy due to sky light and huge glazed panel windows.
We thoroughly enjoyed our stay and had a pleasurable experience. We would definitely recommend to anyone who is planning to visit Cardiff, to book yourselves into one of the Novotel Hotels.