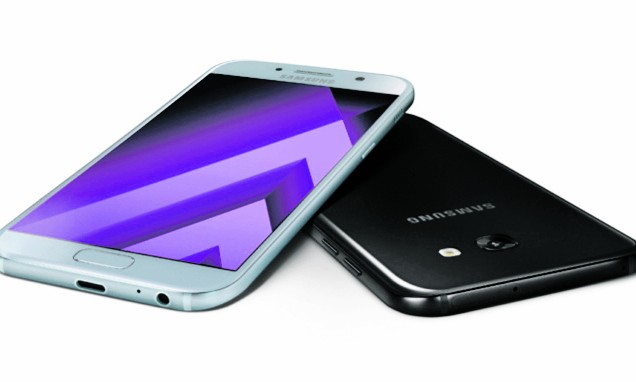 Samsung Electronics today announced the latest Galaxy A series. Available in the UK (and Europe) in two variants – the 5.2-inch A5 and 4.7-inch A3 – the new Galaxy A series combines beautiful design, an enhanced camera as well as features that will make consumers' everyday lives that bit more convenient.
"At Samsung, we are always trying to ensure our customers have the most advanced products on the market," said DJ Koh, President of Mobile Communications Business, Samsung Electronics. "The latest Galaxy A series is a testament to this. We integrated our unique approach to design as well as the features Galaxy customers have come to love to provide added performance without compromising on style."
The Galaxy A features a metal frame and 3D glass back that draws on Samsung's premium design heritage. With a sleek camera and home key, the device has a more seamless form factor than ever and is comfortable both to hold and use. The Galaxy A comes in four stylish colours including Black Sky, Gold Sand, Blue Mist and Peach Cloud.
Capturing the moments that create lasting memories has never been easier with the new Galaxy A, thanks to the enhanced front and rear cameras. The advanced camera technology now offers super-accurate autofocus, resulting in vibrant and clear photos, even ones that are captured in low-light conditions.
Taking selfies has also never been easier. Touch anywhere on the screen to snap a high-resolution selfie with the floating shutter and use the display as a front flash for bright pictures. The camera on the Galaxy A also offers a simplified UX, allowing customers to quickly change modes and instant filters to add effects to pictures. Users can also use specific modes such as Food Mode to optimise and enhance the colour and contrast of selected shots.
The Galaxy A has been designed to keep up with the demands of consumers' everyday lives and incorporates several much-loved features from the flagship Galaxy S7 smartphone:For the first time, the Galaxy A series offers IP68 water and dust resistance, allowing it to withstand elements including rain, sweat, sand and dust so that users can take it with them almost anywhere.
A longer-lasting battery life means that users can stay connected for longer, while Fast Charging enables them to get their device back to full power faster than ever before. The Galaxy A is also equipped with a reversible USB Type-C port for easy connectivity.
Always on Display allows users to check for key notifications without waking up the device, saving both time and battery life.
Increased memory and microSD support up to 256 GB means that users can capture and save content without having to worry about storage.
Available from early February, UK consumers can also pre-order the new Galaxy A3 & A5 from 20th January through Samsung's online store and selected carrier and retail partners. Pre-order customers will be rewarded with Samsung LEVEL Active Wireless Headphones.