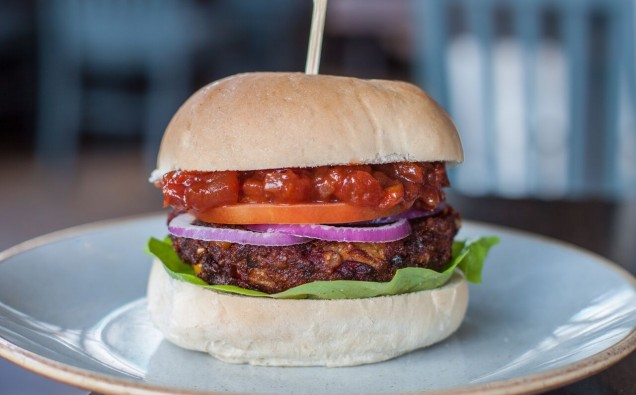 Snug between St. Martin's Square and Selfridges in the Bullring, sits Handmade Burger Co., the perfect place to stop for a quick bite to eat and satisfy your hamburger cravings.
Handmade Burger Co is decorated with an organic rustic and homely interior, with the venue featuring ornate ceiling lighting and plush seating areas. The location also features a bar and ice-cream counter. There is even a station where you can see your freshly assembled burgers being served on plates, before they're delivered right to your table.
The restaurant only serves dishes made with fresh and ripe ingredients, cooked daily by their in-house chefs. All of the food items used are seasonal, and where possible, locally sourced. So if you want to go for an authentic, juicy patty, then Handmade is the only place to go!
The eatery receives deliveries of new produce six days per week, all of which are pre-checked and only the ripest and high-quality ingredients are selected to be used by the Kitchen staff. As a result, Handmade Burger Co. are proud to say that their food tastes great!
Handmade Burger Co. receives an abundance of British grown potatoes to their door-step on the regular. These are then peeled, cut and double fried in-store to produce the perfect chips, which are crispy on the outside, and soft on the inside! The fries can be seasoned by a range of flavours and spices, including peri-peri, cajun and rosemary. The home-made recipe is also a great and healthy alternative to fries served with fast-food orders and takeaway deliveries, which are often high in salt and unnatural fats.
The eatery also serves a range of relishes, salsas and sauces from across the globe to compliment your burger. From prime beef to the finest cuts of chicken and lamb, and organic vegetarian and vegan burgers as well with gluten-free bread. There's something for everyone at Handmade!
If you fancy a taste of something sweet after your burger meal combo, why not choose from Handmade's range of delectable desserts, which include cheesecake, sundaes, and creamy milkshakes. Vegan options with soya-milk and non-dairy ice-cream flavours are also available.
So, why not make time for a visit to your local Handmade Burger Co., Restaurant? Take a quick pit-stop after you're done with your New Year's shopping and sample their handmade food for yourself. Or book yourself a table at www.handmadeburger.co.uk now!
By Manisha Bhanot