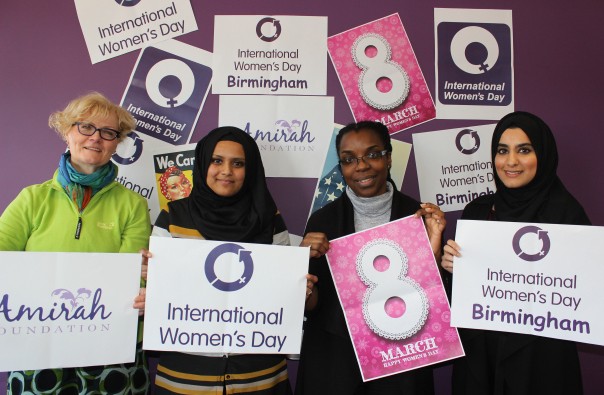 This year's theme is #BeBoldForChange, calling on the masses and ourselves to help forge a better working world – a more gender inclusive world.
Each one of us – with women, men and non-binary people joining forces – can be a leader within our own spheres of influence by taking bold pragmatic action to accelerate gender parity. Through purposeful collaboration, we can help women advance and unleash the limitless potential offered to economies the world over.
In Birmingham, the West Midlands Police will be hosting a community support event on International Women's Day (March 8), which is partnering up with the Amirah Foundation, a women's charity working with victims of domestic violence and homelessness.
The special lunch, aimed at a largely female audience, will take place at the Majestic Banqueting Suite in Aston and explore themes of safeguarding and empowering women, with speakers also sharing their thoughts on community cohesion, mental health and personal safety.
Shaz Manir, CEO of Amirah Foundation, said:"International Women's Day is a time for sharing and celebrating inspiring stories and legacies of women from across the region and the developing world.
"We work closely with women experiencing struggles and abuse, and help them through a process of recovery and rehabilitation.
"Women need to be in a strong mental state to be able to deal with issues. Whilst there is severe deprivation and financial depression it is difficult for a woman in such circumstances to be able to make a full recovery and take control of her life.
"Amirah Foundation having a small group where full support is offered and having peer support builds trust and enables the women to support one another. Often victims of abuse have very serious lack of trust in other individuals as they have been let down many times by services, organisations and authorities.
"Women can see they have achieved some goals, so this success breeds further success for them and thus truly empowers them."
The Amirah Foundation are also supporting an interactive gathering at the Women's Enterprise Hub in Ladypool Road on March 8, where female business owners can join an in-house bazaar from 10am – 2pm; as well as supporting an International Women's Day themed flashmob being held in Grand Central on Tuesday 28 March.
Other events taking place to mark International Women's Day in the city include a screening of film Girlhood at the Impact Hub in Digbeth on March 15, which will include a Q&A from director Holly Tarquini and her F-Rating project.
PMT – short for Powering the Matriarchy Together – is a day-long festival also taking place at Impact Hub, on Saturday 11th March, covering themes of love, art, body and work. The first of its kind event for Birmingham, the festival will be an opportunity to celebrate the rich mix of some of the many women and non-binary people who make up this city.
The Amirah Foundation is fully supportive of diverse, intersectional and inclusive projects celebrating women's rights and achievements.