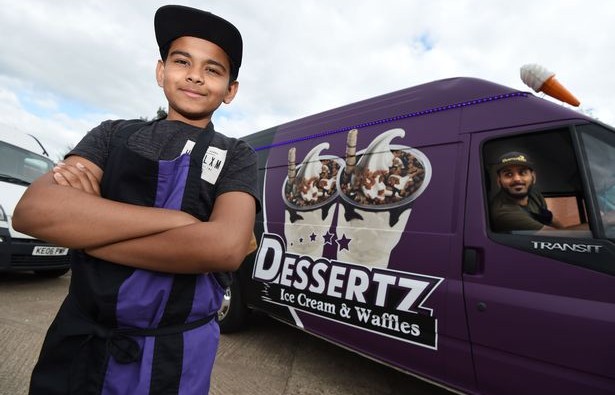 A budding Coventry entrepreneur has launched an innovative business bringing mouth-wateringsweet treats directly to customers via a dessert van – at the tender age of 12.
12 year old Abz Navsarka and his business DessertVan.co.uk from Coventry is one of the finalists in the Young Achiever of the year and Micro Business of the year category.
Abz is the youngest ever person to be a finalist for the award. Abz will find out if he has managed to win the competition and collect an
accolade at the elegant ceremony held in July.
Abdullah Navsarka, or Abz as he likes to be known, had the idea for his business after taking part in a charity fundraising event at his school. The Bablake School pupil said: "We had an event at school where we had to raise money for charity."Our teacher gave us £20 each and I thought I would do some sort of dessert offering. "I put together a dessert buffet with crepes and cookies and it raised £200."
Abz hit on the idea of dessert van and realised although dessert palours have become increasingly popular no one seemed to be offering a mobile option.He was helped by his brother Riz, who said: "Abz thought it would be really cool to have a dessert van and make desserts on the go.
"After searching on the internet we discovered it was quite unique. "There's nothing about that's like it, particularly not in the local area."
The brothers sourced a van and after acquiring a suitably sweet toothed mode of transport (a former ice cream) van, they set about adapting it to suit Abz' needs.
Riz added: "Abz always wanted to do something different and started devising a menu that's really creative.
"Adapted milkshakes called Freakshakes have become popular and Abz hit on the idea of freak ice cream – with bits of cake, cookie and sauce. "He also does freak waffles and something called ice cream on a cloud, which combines ice cream and candy floss."
Abz has only been running his business for three months but already he is snowed under with requests for bookings and is also formulating plans to take his dessert van to public spaces. A video posted on social media about his venture was also shared far and wide.
Thousands of nominations flooded in for the sixth annual English Asian Business Awards over the past months and the full list with finalists has now been compiled. Based on a vote by the public, the awards highlight the value of English Asian businesses and professionals to the society and the various industries they operate in.
The awards seek to reward the entrepreneurial spirit and business acumen embodied by the English Asian community in the country. The black tie event will be held at the Mercure Hotel in Manchester on Monday the 10th of July.
Abz said: "It's amazing to see my idea for a mobile dessert parlour has become such a huge hit.
"I speak to many people who have become inspired by my story. Business is easy people make it hard, find something you love and make it better."