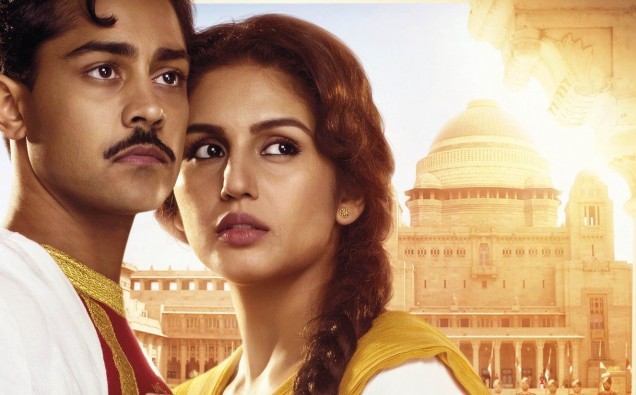 The film tells the true story of the final months of the British Rule in India and its release will coincide with the 70th Anniversary of the Independence of India and the founding of Pakistan.
The British cast is led by Hugh Bonneville (Downton Abbey, Paddington) as Lord Mountbatten; Gillian Anderson (The X Files, The Fall) as his wife, Lady Mountbatten; Lily Travers (Kingsman) as their daughter, Pamela; and Sir Michael Gambon (Harry Potter, Quartet) and Simon Callow (A Room With A View, Four Weddings and a Funeral) as key civil servants.
The Indian and Pakistani cast is led by Manish Dayal (The Hundred Foot Journey), Huma Qureshi (Gangs of Wasseypur) and Om Puri (The Hundred Foot Journey, East Is East).  The roles of the principal political leaders are played by Tanveer Ghani (Nehru), Denzil Smith (Jinnah) and Neeraj Kabi (Gandhi).
It is a story that is deeply personal to Gurinder, whose own family was caught up in the tragic events that unfolded as the Raj came to an end.
VICEROY'S HOUSE is a film that is both epic and intimate, with an inspirational message that celebrates tolerance.  Many of the events depicted are either unknown or forgotten, but all have strong contemporary relevance in terms of lessons to be learnt concerning the politics of division and fear, the origins of religious extremism, and our moral responsibility towards migrants fleeing violence for a better life.
AW had a chance to chat exclusively with some of the Manish Dayal, Huma Qureshi and director Gurinder Chadha.
Obviously, this film is based on a true story, was it always something you felt passionately about bringing to the forefront?
Gurinder: like so many people I have grown up under the shadow of the partition, its something that affected so many of us. I never grew up with an ancestral homeland because my homeland is now what is Pakistan and Rawalpindi. It's a film I knew I was born to make.
So the plot includes a romantic relationship between Jeet and Aalia?
Gurinder: Manish plays a Hindu boy and Huma plays a Muslim girl. I wanted to make a big epic film about these historical events but at the same time I wanted to make it accessible for everybody, so by personalising the story with a love story and the choices that a Hindu and a Muslim have to make at that time, we were able to personalise it for the audience.
Were they representative of the two opposing sides?
Manish: Our characters are so different; they come from such different perspectives. My character represents the Hindu population; Jeet is an idealist and an optimist. He believes in having an independent India and he believes that will bring the peace and harmony to the country he's so devoted to.
His world comes crumbling down when those ideals get challenged in the film and that's when you really see the conflict in the decisions that these two characters have to make, and I think it represents the time, the people and the history that the movie is sharing.
Was it difficult to portray an inter-faith relationship at the time of the partition?
Huma: Why would it be difficult? Isn't it the most natural thing to do? I think the more people live together, get married into different cultures, the more we'll understand and realise these boundaries, fears and prejudice against the other community doesn't really have any basis.
So many people around us have interfaith marriages and they live in perfect harmony – that's the problem with the world if you ask me.
So it was very natural for you?
Huma: Primarily it's a love story and in this case it's the back drop of the partition and the country being cut up into two. Alia, my character, must decide whether she wants to stay in India and marry this Hindu boy, or go to Pakistan and look after he blind father.
Gurinder, you as a female South-Asian director, you've touched upon so many taboo issues, are there any other topics that you think should be brought to the forefront?
Gurinder: Absolutely, I need other people out there making films, at the moment it's just me, everyone else needs to work hard as well.
We really need to do something about women and girls being forced into lives they don't want to lead. We've got to think about child brides and female infanticide. There's a lot of work that still needs to be done. People need to get out there and start talking about this and making films about it.
For this film I think it's really important that the Asian community come out and support films, every single person needs to come out that weekend because this is the way you send a message to the industry that our lives are important and we want see ourselves on the screen. If people don't bother coming out to the seeing, then they don't deserve to have films about them.
There will be no British Asian Cinema, if I don't make another film that it, its done! and I won't be able to make another film unless our community comes out and supports me.