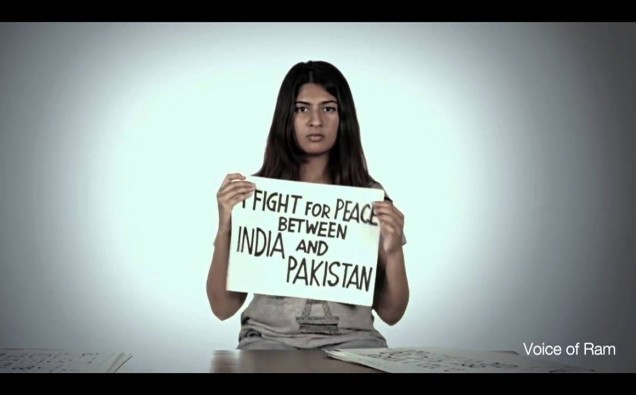 Student Gurmehar Kaur has come under fire lately from the public and celebrities alike, after launching a #ProfileForPeace campaign last April.
The 20 year old is advocating peace between India and Pakistan and has condemned the far-right student group ABVP for their extremist views and unruly attacks.
Gurmehar is the daughter of a Kargil martyr. Her father was killed when she was just 2 years old.
"If there was no war between us, my father would still be here," she had said. In her viral video, Gurmehar asked both governments to "stop pretending" and "solve the problem". She said, "I am questioning the caliber of leadership of both nations; we cannot dream of becoming a first world country with third world leadership."
ABVP (Akhil Bharatiya Vidyarthi Parishad) have frequently been in the news due to their violent extremist attacks which they claim are to protest against perceived anti-nationalism.
Gurmehar went viral when she posted this picture of herself holding a sign that read "I am a student from Dehli University. I am not afraid of ABVP. I am not alone. Every student of India is with me."
The English Literature student has been massively trolled on social media as well as verbally abused and threatened. One part of her video has been taken out of context and used to mock her on Twitter and Facebook.
Cricketer Virender Sehwag tweeted a picture of himself holding a sign reading "I didn't score two triple centuries, my bat did." Along with the caption: "Bat me hai Dum !#BharatJaisiJagahNahi" (There's power in the bat! #TheresNoPlaceLikeIndia)
Since when was it anti-nationalist to promote peace? Since when was it justifiable to send death threats to someone who opposes your views? This far right extremism parallels that of Trump's America, wherein liberals are branded "snowflakes" and "libtards" for not condoning the racist, misogynistic, and often offensive views of the far-right.
Gurmehar has received death threats, rape threats, and abuse, including people telling her that her father would be ashamed of her. As well as this, she has been publicly patronised by people insisting her mind has been "polluted" and branding her a "political pawn". This not only suggests she is incapable of making up her own mind as a university educated woman, but also implies she is generally unaware of politics in her country.
And it's not just Gurmehar who has been a victim of abuse, Amnesty International India has said there is a "growing threat to freedom of expression on Indian university campuses".
"Universities are supposed to be safe spaces for debate and discussion. But the events at Ramjas College are a shameful reminder of how intimidation and threats continue to restrict free speech on university campuses," Aakar Patel, head of Amnesty International India, said in a statement.
"Five to six ABVP activists asked me if I am a communist, they said if you are a communist we will throw acid on your face and rape you," said a visibly terrified student of English literature. She declined to reveal the name of her college out of fear of retaliation.