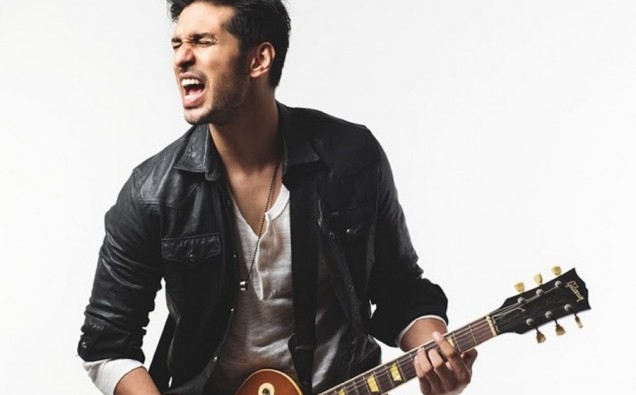 Heartthrob and pop sensation, Arjun Kanungo, begins the New Year with a bang as he releases a fun, groovy song Ek Dafaa. The song features a sample used from legendary artist A.R. Rahman's iconic Chinnamma that makes it fun and adds an extremely trendy vibe to the song.
The track begins with a simple minimalistic grand piano and gradually evolves into an eclectic Electronic Pop tune with a chorus that will make you press the replay button.
Singer Arjun Kanungo says, "Ek Dafaa has been on my mind for a long while and adding a sample of the popular track Chinnamma by the maestro A.R. Rahman was my dream and I am humbled by the response. I couldn't have asked for more."
AW chats to the up and coming music sensation.
So what was the inspiration for the single?
Well it kind of happened by chance, i was in Sri Lanka in 2015 and I happened to hear A. R. Rahman's 'Muchli', which is a legendary song, and i wanted to do something with it for a long time and i thought maybe i can just use a sample of the song.
So I was really excited about this and I kind of wrote the whole thing on the plane on the way back from Sri Lanka which is about 2 hours. All the melodies and the whole music part I put down on the plane and we had the song ready in 2 hours.
So was there a romance that inspired the song?
The lyrics were written by Mayur Puri, who also wrote my first two songs, so you will have to ask him!
When you write a romantic song it has to be based on a personal experience, and the whole idea of the song is 'I won't be complete without you' – that's why the song resonates with the listeners because they can associate with that.
So there hasn't been a special lady in your life?
Oh of course there has been, but it's no fun to just tell you right! J
What was it like shooting the music video?
We shot the music video 24 hours nonstop. I was literally on the floor shooting for a whole day. There's this bit in the music video where we're submerged in water, and that scene took us a couple of hours to shoot. It was cold! On top of that we hadn't slept all night.
People think filming the video is all glamour, it really isn't, it's probably the worst bit. But the appreciation you get afterwards makes up for it!
What's your favourite song?
I don't have an all time favourite song; through the different seasons on my life I've liked different stuff. I grew up listening to classical music, so every day when i woke up in the morning it would be playing in the house. Later I was into boy bands, rocks music and metal bands, then I got into Bollywood music.
A R. Rahman's stuff has stayed with me throughout my life. In a lot of ways, my music is deeply influenced by that era. The 90's have a very particular sound that is very relevant now.
Did you have a musical upbringing?
Not really, nobody in my family does music professionally or recreationally. I was always interested in listening to music, but I never thought I'd go into it. That shift happened within me at some point when I was 17 – 19 years old. I had to make a decision and a commitment to what I wanted to do for the rest of my life.
I met some kids from this school in New York called the Julliard School of Music, they were really passionate about what they were doing and I wanted that for my life, so I decided to pursue music.
I made sure I did whatever I had to do to be a singer and musician, and I'm still doing that. It's a never-ending life endeavour to be an artist of any kind.
Were your family supportive of your decision to pursue music?
I don't think I would be a musician right now if my family had not supported me, it's such a difficult field to be in. I can understand the apprehension of parents who don't want their children to go into musical careers, because it's an uncertain profession, there's no set format. I was fortunate to have the most supportive family.
If you didn't go into the music industry, what would you have done?
I was seriously considering becoming an architect before I decided to be a musician. I was only into it because I was good at it; I had a real aptitude for it. I think that's when I had this epiphany to be a musician. – most likely I would have been an architect.
How would you describe your music?
I think its contemporary pop. I am very influenced by the newer sound and i like what's happening. The current sounds of the world is what i'm more inclined towards because it's more representative of what people are currently listening to, so i would definitely say contemporary pop music, there is also a little bit of Indian there too though.
Who would be you dream collaboration? – Living or dead
Oooh that is a difficult question I had a major Mozart phase, where I would just listen to him all day. I think I would probably like to collaborate with Mozart. He had a special ability, his music is so intricate, and he made it look easy. I don't think any other musician is as proficient in doing that.
What instruments do you play?
I play the guitar and piano. One day I was doing a restaurant kind of gig, and someone came up to me and said you should audition for Asha Bhosle's band. I went and auditioned for her, and while I was auditioning I sang something for her and she said 'You must be the singer!' – so I auditioned for the guitarist in the band and became the main vocalist instead.