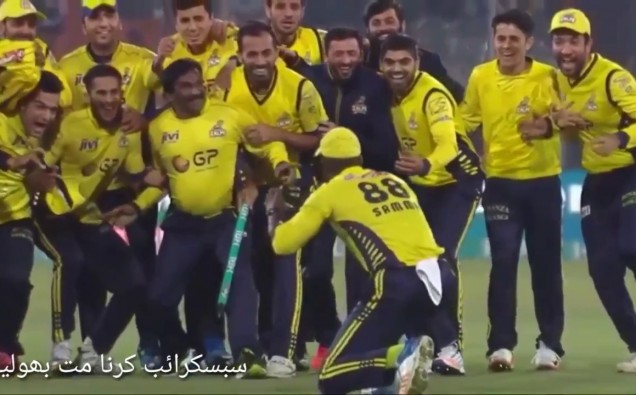 Peshawar Zalmi crushed Quetta Gladiators to be crowned the 2017 PSL champions. This magnificent victory was without their captain and talisman Shahid Afridi, who withdrew from the match due to a finger injury.
Afridi is a vital part of Peshawar's team, but they proved they have strength in depth within their squad as they easily beat the Gladiators. Despite not playing Afridi wished his team mates the best of luck leading up to the final and still tried to motivate his side to get the job done, given the leader that he is. Many of his teammates also feel he put the fear of god into them in the dressing room and at training because of his motivation, willingness to win and his passion. Every crowd he played in front of lit up as soon as he picked up the bat, people knew he would outwit his opponents with every inch of his game, whether that'd be bowling or batting.
However, his absence can take nothing away from how brilliant and well organised Zalmi was. The game was run convincingly by 58 runs and with Darren Sammy leading Zalmi they really and truly did dominate from start to finish.
It was also a very fine day for Mohammad Asghar as he continually caused problems for the gladiators, along with his teammates Morne Van Vyk and Anamul Haque who were originally replacements for the regulars who were missing but they definitely gave their coach something to think about after a sensational bowling display.
Wahab Riaz was also on inspiring form after he reduced the gladiators to 37 to 5 in the 8th over. The gladiators were not down and out as Sean Ervine and Anwar Ali attempted a 35 partnership to counter Riaz but the match had been dominated for too long and Zalmi remained disciplined and organised and kept their strong lead until the final stages of the game.
The gladiators finished runners-up for the 2nd time in a row and were once again left with the heartache of a final defeat.
Afridi was not needed for Zalmi on this occasion and since retiring from international duties he still believes he has a legacy to imbed into Pakistani cricket. The Pakistan all rounder announced the news after hitting a magnificent 54, in 28 balls in an IPL match for his side Peshawar Zalmi. Afridi had this to say on his announcement;' Now my foundation is important for me. I have played with seriousness and in a professional way from my country'.
The Pakistani all rounder made his debut in Kenya back in 1996 and he went on to make 523 appearances to scoring well over 11,000 runs throughout his long career. The Pakistani star also took over 500 international wickets and was always spoke highly of by everyone associated with cricket as people admired his cricket style. Words such as; impulsive, impetuous, swashbuckling and aggressive were just a few of the terms used to describe his unique style of play.