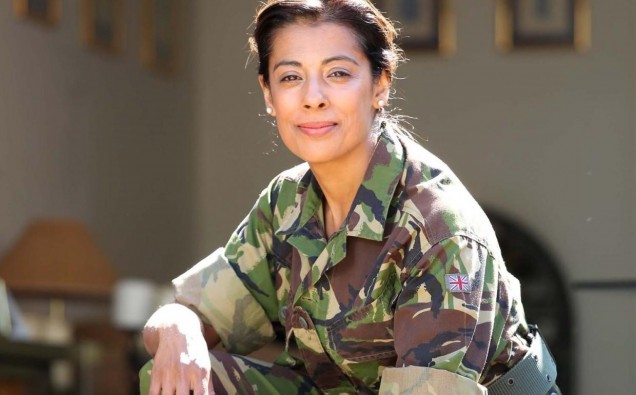 A rising star in the Conservative Party has defected to the Liberal Democrats due to Theresa May's extreme version of Brexit.
Azi Ahmed, who stood for the Conservative Party at the last election, grew up in Oldham and served in the Territorial Army, contesting Rochdale in the 2015 general election.
She was deputy chairman of the London Conservative Women's Organisation. She decided to join the Liberal Democrats recently after meeting party leader Tim Farron.
Azi Ahmed said: "I stood as a parliamentary candidate for the Conservatives in the 2015 general election, and was proud to introduce Defence Secretary Michael Fallon at last year's party conference, but I have left the party to join the Liberal Democrats because I can no longer campaign for a party which has hardened its line on Brexit.
"I believe Theresa May's approach is completely wrong and the Conservatives are making a terrible mistake; our country is going to pay the price.
"I voted Remain and thought there was still a place in the Conservative Party for people like me, but the way they are fighting this election has made me realise I cannot support a policy which goes against the national interest. A hard Brexit is a car crash waiting to happen.
"The Liberal Democrats are the only serious alternative to the Conservatives; their vision for the future of our country is more attractive and inclusive than that of any other party. Tim Farron has articulated a clear, consistent position on Brexit in contrast to the confusion that surrounds Labour's policy.
"One of the greatest challenges we have as a society is making sure younger voters are engaged with politics and don't feel disenfranchised. Brexit was rejected by 75% of 18-24 year-olds in last year's referendum and one of our priorities should be to find a way of involving this generation in the political process. I believe the Liberal Democrats are best placed to do this."
We spoke To Azi about her recent transition and what the move meant for her.
Why did you feel the need to change political parties?
This was quite a big change for me, I went from the Conservative party to the Liberal Democrat and the biggest factor for this was the pro-Europe factor of course. I'm very strong pro-Europe and I felt, like many people, that it was going to be a very big step for the country. There are a lot of people, who are still in the Conservative party who are pro-Europe and probably have turned their backs on their morals, but I couldn't do that. I had to make a decision whether I was going to lie for the next five years and remain in the Conservative party or go with my heart, which is why I moved to the Lib Dems.
Did the recent election sway your decision?
The snap election did say a lot about where this country is going, especially with the hung parliament and I do feel now that the Lib Dems are in a very strong position now that we have Vince Cable on board because he is a man who brings over 40 years of experience to the table, and I truly believe he is going to rebrand the Lib Dems and make it a stronger party. I am speaking to senior members of the party about how to position me within the Lib Dems, and I'm hoping to run for election as I did in 2015 for the Conservative government.
How has the transition been for you in terms of adopting Lib Dem views?
The reason I opted for Conservative In the first place was because it was something that my parents had voted for, it was the only party at the time that supported small businesses. When I moved over to Lib Dems, a lot of my friends and family were pleased that I'd moved and they mentioned that they were surprised when I went for the Conservative party because I don't voice opinions like the conservatives. I'm a very integrated open minded individual. The values that the Conservatives carried didn't really bode well with me. My transition has been great and the Lib Dems have welcomed me with open arms and they do feel I'm going to be a valuable asset.
What are you main goals within the Liberal Democrat party?
I can get in touch with all parts of society and hopefully attract the younger voters within the Lib Dems I think that's my key goal. Also what I'm trying to promote is to scrap tuition fees for stem subjects which are the science, technology, engineering and maths. Labour mentioned that they would like to scrap tuition fees and realistically, that's not possible. The Lib Dems tried that when we went to coalition but it left such a deficit. I think that's why Corbyn got so many young voters, because that is what they wanted to hear, but what I'd like to do is to find a middle ground and change the way our workforce and skills are going so we can be prepared for the technology and artificial  intelligence jobs that are coming into play.
Have you experienced any more trolling?
The trolling I experienced before was a complete shock to me; it all came about after an article that came out in Russia Today. What was confusing was this article came out 2 years after my book was published and all the coverage I had had up to then had been positive. The same day that the article came out, I received so much hate and trolling and it was so well organised, it shut me down on social media, this was definitely an organised campaign.
They then attached the article to bloggers so they could get a larger reaction, and perhaps it is a coincidence, but the article came out the same day that Michael Fallon declared cyber war against Putin. RT is a state owned publication that is backed by Putin. The article had a video of me introducing Michael Fallon attached to it so it's all a bit of a coincidence that it happened at that time and I could have been in cross fire – I think it could have been a bit of a smear campaign.
Did the smear deter you from getting into politics?
No, it's made it me so much more determined. Before I would say I was drifting along in the Conservatives. They would often say to me 'you are just what we need' almost like I was ticking a box, I was a woman, I was independent, I've been in the army, I am an entrepreneur, I've come from an immigrant background and I grew up in the most deprived town in Britain, you can't get more connected with society than that. I think they wanted to change the way people looked at the Conservative party. Since this trolling incident, it's a like a jolt of lightning inside me, and it's made me realise how determined I am to make my mark in politics.