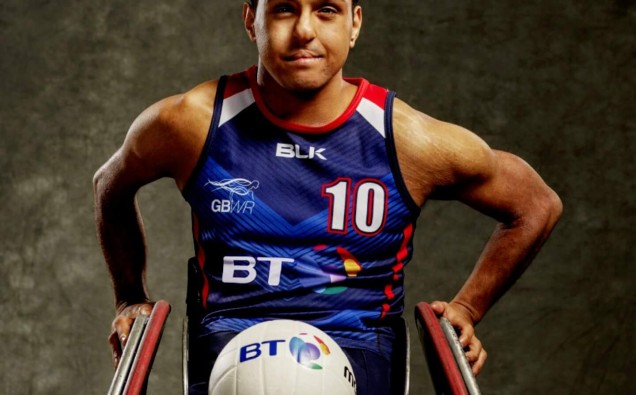 28-years-old Ayaz Bhuta, a Paralympic athlete from Bolton, talks about his condition and what drove him towards sports.  Bhuta, who is 3 feet 8 inches and weighs seven stone, does not let his stature get him down. Along with being a Bronze Medallist and a European Champion, he has won the Muslim News Award for Excellence in Sport and Fans Most Valuable Player at World Championships in 2014.Looking for sponsorship to fund his Tokyo 2020 dream, the avid sportsman is not allowing any financial hurdles to discourage him. Asian World speaks Bhuta about his sports journey so far. 
How did you deal with your rare condition?
I was born with Roberts Syndrome which has limited the growth of my limbs and my legs are quite short. I can use my left arm perfectly fine but I can't extend my right hand. I can't even get a bicep or triceps because of the illness. I have had operations for straightening my feet out and I even had speech problems. I visited various hospitals since childhood till I was about 15-16 years old. I am grateful to NHS and what they have done for me. Without all the help they have provided, I probably wouldn't even me a sportsman right now.
What drove you towards sports?
I found out about Wheelchair Basketball when I was in college which helped me increase my confidence and made me fitter and I kept on playing for three years. However, it was a non-contact sport and I was always quite aggressive. One day a scout came to watch the basketball game; he saw my upper body deficiencies which qualified me to play wheelchair rugby. I then went down to a GB training session and was directed to my local club. I enjoyed it so much that I kept going back in. I then got selected for GB team and for a tournament in Australia which was not a successful tournament for me. I had to train and work hard to prove that I could play internationally. I preferred Rugby to Basketball and wanted to do my best, I see myself as an agile and quick player which came to my advantage. I used this skill to avoid hits but I still did not have the strength to knock my opponents and never will due to my size.
How did you get into Paralympics?
After I got into the GB development team in 2012, I entered a tournament in Prague and my team came in fourth. Six months later, I was called into the elite team in 2013 and we went for a test event for the World Championships where I was voted the best in my position, that year we claimed a Bronze medal at the European Championships. In 2014 we finished 5th at the World Championships and I was voted the Fan's Most Valuable Player. In 2015 at the European Championships we had to finish in the top two to qualify for the Rio 2016 Paralympics. We clinched the Gold medal by 1pt in the remaining seconds of the game and qualified for the Rio 2016 Paralympics. We had to train rigorously to get selected and when I did it was a whole new experience. However, we were unlucky to miss out by one point against Canada and we did not progress to the semi- finals to compete for a medal.
Where did you get your funding from?
We were funded by UK sports depending on our growth and achievements. I was usually paid the UK sport wage every month which was £12,000 per year but when we did not medal at the Paralympics, so the sport's funding was cut. We didn't have enough money to train for the championship in July as we would normally go to preparation tournaments and various training camps which was reduced. The team has limited resources as well and we have started looking for sponsorships both for the team and individually to allow to carry on playing. No other European team has ever won a medal at the World Championships and we feel we are very close to achieving this.
What other challenges did you have to face and how did you overcome them?
Being a Muslim has its challenges as well, but the community has always been really accommodating. Before the championship this year, I was fasting for Ramadan and I also had to train and go to training camps. I am quite blessed to have such an understanding crew around me as I had to be really sensible and careful of what I was eating to be in the best shape possible. I did not feel left out as such even though I didn't get to spend Ramadan with my family, I consider my teammates to be my second family. They even got me presents! I have made friends for life. Even if I'm not in the sport and retired, I will still keep in touch with them.
Was it helpful for you to be around people who had the same sort of difficulties?
Sport is such a good way to build relationships. I have created so many great memories. I have met so many people with different stories and different backgrounds. So many of my friends have had accidents in life like car crashes but they still have the strength to carry out a sport. I admire them and I love going to play with them. This has transformed the sport as well as we beat other teams comfortably. But when you get home, it's completely quiet and silent and you come back to your normal life. It's a different atmosphere.
How did sports change you as a person?
Actually I was the only disabled person in my primary school. I was the only one with a wheelchair. But I was quite popular. My teachers made me feel involved. Then I went to secondary school to get my GCSE but it wasn't until college when I actually started to feel like I was a disabled person, someone who is different from others. People used to stare at me in the streets which made me feel really uncomfortable and affected my confidence. When I was between 16 and 18, I was afraid of what people thought of me. I was afraid to go out because I thought people are going to see me as a small guy in a wheelchair. But sports opened me up. When I had low confidence I would just look away but now I try to smile and if they walk up to me I say 'hello'. I've got the confidence to approach people because of sports.
Do you ever think of giving anything back?
I do a lot of good work in the community. I want to share my story and inspire anyone no matter what sport or field they are in. I just want my story to give them confidence. It's taken me a lot to get here but now that my funding is over, I have had another setback. But I'm strong minded enough to get through this phase. I'm hoping that someone in the Muslim or Asian community can believe in me and what I'm trying to do and help me. I want to give things back to charity and I would like to inspire children. I come from a very educated family.  When Asian parents look at their children they want them to do a profession in the sciences or teaching etc, [they] look at the prestige whereas my profession in the Asian community is not seen as a good profession. People just think you're having fun with no sense of honor and achievement. I want to be an inspirational figure so I could change that perception.