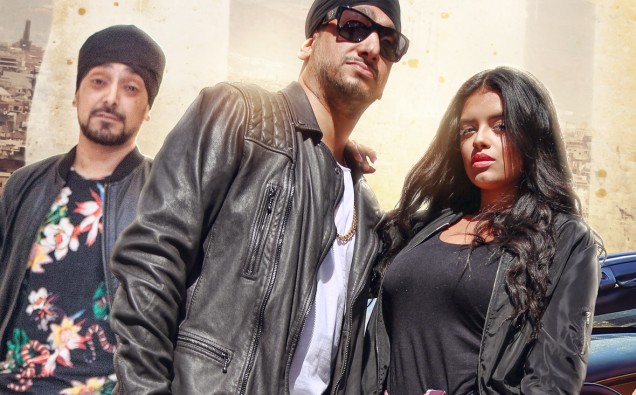 How do you feel being back on the music scene? And what else can we expect from you?
We actually never left the music scene! We have been on constant tours internationally and I guess as we don't feature as much on the UK live scene back home people assume we are not performing. Our live gigs have been non-stop and we are very fortunate to have so much support from fans in South East Asia and India and Pakistan.
We're very excited about this new song and for us it's something different and very much the sound of today on an EDM vibe.
2. Now that you back on the scene, will you be doing any collaboration with any new Bollywood/Bhangra artists?
We have so many things going on right now. Our last single 'Billo Hai' featured as the main track for a Lollywood movie, 'Parchi', and was called a game changer for Pakistani cinema…something we are very proud of! We are currently in talks with some companies in Bollywood and working on collaborations with International artists too. Watch this space!
What are you currently working on?
We have for new tracks in the pipeline…all are at some stage of production and almost all ready to finalize. One of them is produced by the man-of-the-moment Vee Music who is the music brains behind Guru Randhawa's recent big tracks. Exciting time ahead!
Are you planning on touring again worldwide?
Touring worldwide is something we already do regularly. We have, thanks to the almighty, a huge fan base in Pakistan, India, Kenya, Malaysia and Norway. We seem to be overseas more than we are in the UK at the moment!!
While taking a break? Is there anything that you've learnt or like to do different?
Being out of the music charts is probably the only 'break' we've had to be honest. We are always learning, listening, watching and planning, that's the only way to stay focussed and productive. I can't really say that I would have done anything different at all, it's been a very fulfilling journey so far and with God's grace long may it continue!
Who is your favourite Bhangra artist today?
Wow! Where do I start? There's so much talent coming from sub-continent and there is a new hit or artist that spring up every week! Right now, I'd say there is no one on a higher platform than Diljit Dosanjh who has turned the Punjabi and Bhangra scene on its head!
7. How did you come about setting up the group Sahara? And what makes you different from other Bhangra groups?
Music has always been a passion of us. From an early age we were involved in music and performing and trying to create a sound by copying other stars and singers. From the age of 11, myself and my brothers Kully and Gurps have worked on our music and here we are today!
In terms of Sahara, we basically have moved on with the times with our sounds. I mean our first album was in 1993. We had a huge part to play in UK garage Bhangra scene with our track 'Soniyeh NI Soniyeh' we then released Lal Ghagra which even till today is the most played track at parties across the globe.
'Billo Hai' is the first ever track to be used in Lollywood movie from a British Sikh Bhangra band and our new song 'Shake It' has a very contemporary EDM sound.
What advice would you give to anyone that wants to pursue a career in music?
Learn your skill for sure! Don't be disheartened by the knockbacks, it ain't an easy ride but follow your dreams for sure and you will prosper.
What message do you plan to send across to your fans worldwide?
One love to everyone around the globe. Music is a universal language as it can bring nations and people together and we are living proof of that on how our songs and music are loved worldwide. Thank you to all our fans across the world for supporting the Sahara sound!
Finally, will we see any Bollywood tracks in your next album or will it just be Bhangra?
To be truthful what defines a Bollywood track? Nowadays all of the old Bhangra classics are being created as Bollywood film songs, so who's copying who? Let's see what this year has in store for us. Talks are on-going with labels in India and hopefully our sound will be broadcast to a wider audience.