 Following the news that Birmingham is an "all-Muslim" city, I can't help but bask in the irony of an all Christian school opening in Birmingham city centre in September 2015.
King Solomon business school is a first of its kind, as it specialises in international business for children aged 4- 19. The school is affiliated with the prestigious Woodard Foundation, which has over 150 years experience in running schools.
Asian World sat down with the chairperson of Excell- an organisation managing the school- Dr Cheron Byfield. We explored queries on every parents mind and everything you need to know before enrolling a child into a new school.
Dr. Byfield explained: "It's been in the process of redevelopment for about 7 years now, when Michael Gove introduced this free schools programme". They felt it was the "ideal opportunity to start something brand new and that was when we put the application forward for King Solomon; which is an all free, Christian school."
But why the push for international business? Dr. Byfield explained: "It will be an international business school. The children will study the national curriculum; a very wide variety of subjects including maths history and geography. But in addition to that, from the first day they start the school to when they leave- so that's from the age of 4 till 18, they will study one hour every week of international business.
They will learn the international business mindset and they will learn to develop their business skills. This will include learning about finance, the stock exchange, as well as how to start a business. Also, they will be learning how to trade internationally through the engagement of international businesses throughout the whole process. So the children won't be just doing theoretical studies but will be at the sharp end engaging with internal businesses."
In the earlier stages, children will be learning how to develop the mindset for international mindset. So when they enter secondary school, they will be ready to use these skills.
It sounds like an interesting programme, but the question on every parents mind is whether or not this is classed as a recognised qualification.
"When the children enter in the sixth form, the will be completing the international baccalaureate. We are working with them to create a new accredited scheme called international business, which will be introduced as part of the international baccalaureate. With that, they have a very broad and balanced curriculam where they have to study six subjects, including a language."
"There is no other school in Birmingham that has a focus on international business as a specialism. You have schools that specialise in sports or science academies, but were offering something new to Birmingham and offering parents more choice."
The school has a prime city centre location- near Aston University. But for working parents who want to avoid the city centre rush, how does this affect their daily schedule?
"Most parents don't see it as an awkward location, but as an ideal location. As it is central, it doesn't matter where in the city that they live, they can access. We will be having a breakfast clubs so that parents can drop off their children earlier; to avoid those peak rush hour times in the city. Similarly we have after school clubs, which are all in place for parents."
After coming under heavy criticism from the media, Birmingham has been labelled as 'all Muslim'. How does an all Christian school fit in with this image of a radicalised city? She said: "It is a Christian school, but we welcome children from other faiths, including Muslims and those of no faith. King Solomon is a character that is highly respected in the Christian, Muslim and Jewish faith. So we have a basis for some positive common ground. We also have a multi faith prayer room, for children who want to take time out for religious prayers, or for a time of self reflection.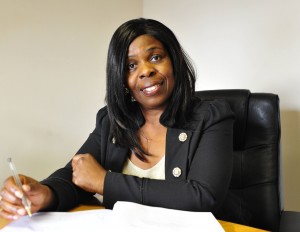 "Yes there will be morning assemblies and collective worship because it is a Christian school. If a parent feels very strongly, for whatever reason- which is unusual because we are part of the Woodard family of Christian schools and they have never had an issue with children of other faiths. They come along to the assemblies, and we don't put pressure on any of the children. We are open to anyone from all faiths. But we would expect most children to participate. In terms of our R.E. syllabus, we have chosen to follow the Birmingham SACRA syllabus, instead of an all Christian study. As part of the SACRA we have chosen to explore all faiths and so the children will learn about values from religions."
As a leader in promoting Christian values, it is imperative that King Solomon addresses issues of religious cohesion. Dr. Byfield explained: "Yes, it is essential; very much so. It is very important to us to promote religious cohesion as it sits in line with our religious values. We don't like what we have been seeing recently in the news and the mis- representation of particularly the Muslim community. Not everybody is the same and it's about educating children to have a balanced understanding of the reality, rather than some of extremism that we see. "
PD
Dr Cheron Byfield, chairperson for Excell