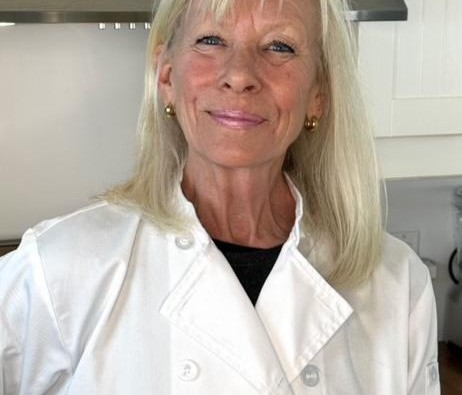 Chef Lynn Daniella Hoffmann is a talented chef who was born in Canada and has Hungarian, Romanian, and Portuguese ancestry. She was brought up in Portugal and completed her final year of high school in the UK. Her family moved back to Canada after the Portuguese revolution and graduated from Concordia University with a double degree in Fine Art and Graphic design. She had a very long double career in the investment industry as well as her own freelance design company.
She is a Content Creator on Instagram: jump_into_my_kitchen
A Chef Creator on the Gronda app: Lynn Daniella Hoffmann
Q.) Which cuisine do you prepare?
Chef Lynn: My food is renowned for being "fusion cuisine," since it is a synthesis of several cultures as a result of my travels and passion for trying out new recipes and culinary styles.
Q.) When you were 18 years old, what motivated you to write a cookbook?
Chef Lynn: I used to work in a big office and bring my own prepared meals, which many of my coworkers found impressive due to their appearance. My first cookbook, "Recipes for my Friends," was inspired by that.
Q.) Describe the cuisines of Portugal and Hungary.
Chef Lynn: I grew up learning about Hungarian cuisine from my late mother, which is a blend of sophisticated and hearty dishes from the plains that have been inspired by many other civilizations over the ages. Deep, rich tastes made with charcuterie, game meats, and their renowned "paprika." Amazing sweets that reflected both their personal and the Austrian empire. Portuguese food has been greatly influenced by many different cultures, and as a maritime nation, it is rich in fish and seafood dishes. Prepared simply (mainly on a grill) to retain the sea's flavours. Amazing agriculture and hearty meals are the hallmarks of inland Portugal. Their "Black Pork," which is akin to the Spanish "Porco Iberico," is particularly well-known.
Q.) What makes your meal unique?
Chef Lynn: My food is "fusion" and innovative since I blend other cultural cuisines into it and I don't often make the same meals twice. Since of this, my creations are always surprising and full of new flavours! Because I have experience with sculpture in my early years, my plating design is entirely original and "sculptural."
Q.) It's amazing how colourful your food looks. For what reason, exactly?
Chef Lynn: Being an artist (painter, sculptor, designer, photographer), I have a strong visual sense. A platter ought to have appealing hues, textures, flavours, and aromas.
Q.) What was the proudest moment of your culinary career?
Chef Lynn: I had two really proud experiences. The first was a few years ago, when I opened "Saveurs du Jour," a private house restaurant (Flavours of the Day). It quickly gained a lot of success, and I had a great time entertaining visitors, wowing them with my food, and getting to know amazing people. My rise to fame on Instagram with my brand "Jump Into My Kitchen" was, and continues to be, my second source of pride. I am often asked for guidance, coaching, and instruction by other chefs. I founded a worldwide chef club two years ago with the goal of inspiring people and bringing together chefs from all around the world for enjoyable, non-competitive cooking challenges.
Q.) What motivates you to cook?
Chef Lynn: I am motivated primarily by my inner drive to encourage people, whether they be professional or home chefs, kids or young adults, etc., to cook and be creative.
Q.) Which cuisine, Canadian, Hungarian, or Portuguese, do you find most interesting and why?
Chef Lynn: Actually, none of those: Asian food is what I find most fascinating and heavily influences my cooking. Asian food has so many different aspects and customs.
Q.) Any suggestions for aspiring chefs?
Chef Lynn: Definitely! Be creative. Experiment with flavours and textures. Don't be afraid of making mistakes. Ask many questions and reach out to other Chefs. Without a doubt, my mantra is "Don't be afraid to break the culinary rules".
By: Rida Khan (Aviation Author)
Instagram A/c: aviationauthor.ridakhan
Recipes courtesy of Jump Into My Kitchen®
Asian inspired Torched Salmon and Spicy Salmon Tartare
Serves 2
Ingredients
600g Salmon filet – IMPORTANT: it must have beenpreviously frozen for at least 7
days.
2 Tbsp Hoisin sauce
2 Tbsp Lime Ponzu (or 2 Tbsp Low sodium Soy sauce & the juice of 1 fresh lime)
1 Tbsp Toasted sesame seeds
2 Spring onions, finely chopped
2-3 Tsp Hot chilli sauce (or more if you like it very spicy)
4 Sheets Phyllo pastry
Canola oil for brushing the pastry
Baby Bok Choy leaves or lettuce leaves for garnish
Special Equipment
2 x 12 cm Ring mold, or baking cup
Baking tray
Pastry brush
Parchment paper; Blow torch
Instructions
Heat the oven to 220c
Line the baking sheet with parchment paper.
Cut the 4 sheets of phyllo pastry into 2 equal squares and brush each sheet lightly with canola
oil, placing each sheet on top of the other. Press each of the set of four phyllo squares into each
ring mold with the edges hanging out and gently form a cup.
Place them on the baking tray and bake for approximately 15 minutes or until golden. Keep an
eye on them as they will burn quickly. Remove the tray from the oven and let the phyllo cups
cool whilst you prepare the salmon.
Tartare: Cut the salmon filet into 4 equal portions. Set two aside, leaving the skin on.
Take the remaining 2 and remove the skin. Using a sharp knife, dice the salmon flesh and place
in a medium small bowl. Add the hoisin, ponzu (or soy sauce and lime juice), sesame seeds,
spring onions and chilli sauce. Combine well and cover with plastic wrap and refrigerate.
Torched Salmon: Take the 2 portions of salmon with its skin on and place on a plate. With the
blow torch on medium flame, torch the skin until it's evenly browned (or even black for more
flavour). The gently torch the flesh side until it's cooked to your desire.
Cut the filets into equal squares of approximately 2-3 cm each.
Assembly
Unmold the phyllo cups onto 2 appetizer plates. Line the cups with bok choy leaves or lettuce
leaves. Place equal portions of the torched salmon into each cup and then spoon in equal
portions of the tartare alongside the torched salmon and serve immediately.
Portuguese-Hungarian Octopus
Serves 2
Ingredients
2 Octopus tentacles, separated
Water for boiling
5 Tbsp Olive oil
2 Large shallot
¼ Cup dry white wine
1 Tbsp Hungarian sweet paprika
6-8 Baby new potatoes, washed
8 Slices of spicy Portuguese "choriço" OR Spicy Hungarian dry sausage ¼ inch thick
4 Dried bay leaves
Salt and pepper to taste
2 Whole garlic bulbs
Instructions
Prepare the octopus: Fill a medium-large saucepan with water up to half way and bring to a
boil on high heat. Once boiling, reduce the heat to medium and gently add each octopus
tentacle holding the thick end. The thin end will start to curl as it is immersed into the boiling
water. Repeat with the second tentacle. Allow it to simmer for 30-45 minutes or until tender.
Remove from heat and set aside.
Prepare roast potatoes and Choriço; Roasted Garlic bulbs
While the octopus is cooking, heat the oven to 450F.
Add the potatoes (skin on) and the choriço slices to a medium roasting pan and drizzle with 1
Tbsp, olive oil. Sprinkle generously with fine sea salt. Roast, turning once or twice, until the
potatoes and choriço are crispy. (About 35-40 minutes)
At the same time, slice the top of each garlic bulb so that all the cloves are exposed.
Wrap them loosely in foil with the corners facing the top and leave a small opening to allow
steam to escape. Roast the garlic bulbs alongside the roasting pan.
Prepare the sauce
Peel and slice the shallots 1/8 inch thick and add to a medium skillet.
Add 2 Tbsp. olive oil and sauté the shallots on medium high, stirring, until slightly golden.
Add the paprika and combine well with the shallots, then add the white wine and the bay
leaves. Allow it to simmer whilst stirring, until the white wine has reduced by 1/3. Remove from
heat and season to taste with salt and pepper. (This preparation should take about 15 minutes).
Sauté the Octopus
Remove the octopus tentacles and place on a plate lined with paper towels.
In a medium skillet bring the remaining 2 Tbsp. olive oil to sizzling point on high, then reduce
heat to medium and add the 2 tentacles. Sauté the tentacles, turning from time to time, until
the edges are golden and remove from heat. (About 10 minutes)
Remove the potatoes and garlic from the oven.
Assembly
Take 2 dinner plates and place one tentacle on each.
Spoon half the sauce over each tentacle, then add the roasted potatoes and choriço.
Unwrap the roasted garlic bulbs, sprinkle with a little bit of fine sea salt and place each bulb alongside each tentacle. Serve immediately.