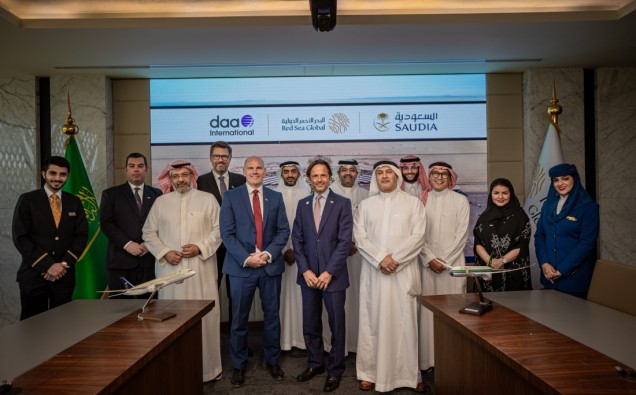 The first airline to fly out of Red Sea International Airport is Saudi Arabian Airlines (SAUDIA), the country's flag carrier. SAUDIA has signed a memorandum of agreement with Red Sea Global (RSG), the multi-project developer behind the two most ambitious regenerative tourism destinations in the world, Red Sea and Amaala, as well as daa International, the operator of Red Sea International (RSI) airport.
Red Sea International Airport, which is approximately 15 km inland from the Red Sea coast, started development in the year 2021. Foster+Partners and architecture studio Jacob worked together to create an outstanding design. Along with the opening of the first three resorts at the Red Sea area, RSI is slated to make its debut this year. When it first opens, there will be domestic flights to and from Riyadh and subsequently Jeddah; international flights will be added starting in 2024.
When the Red Sea International Airport's first phase is completed in 2030, thirteen other hotels will also be operational. The area will have 50 resorts, with a total of 8000 hotel rooms and more than 1000 residential buildings spread among 22 islands and 6 inland areas. Luxury marinas, golf courses, entertainment, F&B, and recreational facilities are also included in the destination.
John Pagano, Group CEO of Red Sea Global said, "In 2016 His Royal Highness, Prince Mohammed bin Salman set out a vision for the kingdom of Saudi Arabia. A vision for a thriving country, one that was recognized as a global hub where people from all around the world come to experience the best of Saudi culture, hospitality and nature."
Red Sea Global won't simply be filled with joy as the first commercial flight touches down at Red Sea International. Making that goal a reality will mark a significant turning point for the Kingdom of Saudi Arabia. Therefore, it is appropriate that the Kingdom's national airline, SAUDIA, will depart from our destination first.
In accordance with the contract, SAUDIA will start providing regularly scheduled services to and from RSI. It offers a framework for three organizations to conduct joint research on the usage of sustainable aviation fuel (SAF) and lower carbon aviation fuel (LCAF) at Red Sea International Airport. The use of electric vertical take-off and landing jets (eVTOL) to lessen emissions from air travel to the Red Sea will also be assessed.
Mr. Nicholas Cole CEO of daa International said, "Red Sea International is a new gateway for travelers to experience the wonders of Saudi Arabia. Bringing our unmatched airport management expertise we will work with RSG and SAUDIA to ensure RSI delivers a truly unique experience for all who pass through it."
Capt. Ibrahim Koshy, CEO of SAUDIA said, "Today's agreement marks a new chapter in Saudi Arabia's aviation history. As wings of Vision 2030, SAUDIA'S contribution is to be an enabler in attaining giga projects targets, and our involvement as the first airline to operate from and to Red Sea International airport is a source of pride for us all. This agreement will strengthen our position in the Kingdom and allow us to collaborate with RSG and daa International to boost tourism and enhance the country's standing within international aviation."
In addition to continuing to oversee airport operations, daai will collaborate with SAUDIA on a number of tasks, including allocating counters and gates.
SAUDIA flights will connect travelers from around the world to the stunning Red Sea.
By : Rida Khan (Aviation Author)
Instagram A/c : aviationauthor.ridakhan