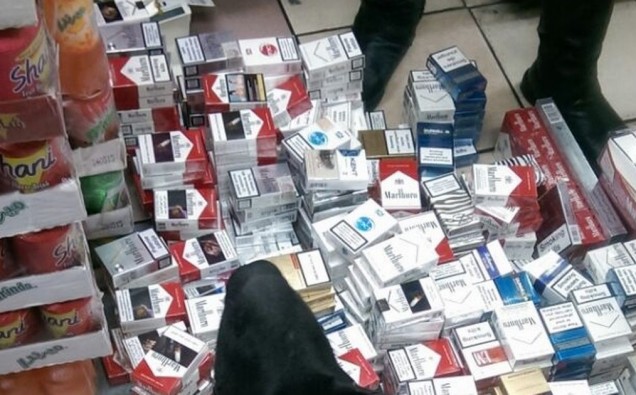 A number of shop raids have been conducted in Tamworth for seizure of illicit
cigarettes and a mass of hand rolling tobacco. Informed by intelligence in order to apprehend the sales of illicit tobacco and cigarettes across the towns including Tamworth, Staffordshire County Council's trading standard officers, along with the sniffer dog, raided premises in the Rugeley and Burton as well.
To sum up all, the stocks seized were approximately 13L of suspected duty-free vodka,
30000 counterfeit cigarettes, 8 kg illegal hand rolling tobaccos, and about £1000 in
cash. Tamworth Herald can reveal that four out of nine raided shops were in Tamworth,
while the remaining were in Rugeley and Burton.
"This is one of our primary objectives", as stated by the Staffordshire County Council's
community's leader Gill Heath, "in order to put an iron-hand on the sales of illegal and
counterfeit tobacco." "The supply of obnoxious tobacco and cigarettes was successfully
disrupted by our team with the help of efficient intelligence. In order to prevent the
illegal tobacco from being caught, some shop owners hid them in ceilings, false walls,
and light fittings."
"The residents of the area deserve our gratitude for informing us about the suspected
sales of illicit tobacco which can possibly fund criminal gangs and damage businesses." She added: "The counterfeit tobacco is usually sold at a cheaper price in the market and are damaging to people's health so its presence can undermine smoking cessation efforts.
Moreover, illegitimate cigarettes do not possess the property of self-extinguishing as opposed to the legitimate ones. Therefore they are potentially dangerous to the
environment as well."
"The illegal tobacco market attracts the children and young people because of it's comparatively cheaper price. From a taxpayer's point of view, there is a decrease in the money being spent on schools, hospitals, and local communities, therefore, it cannot be, in any way, regarded as a victimless crime."
The raids of Tamworth are the latest ones by the trading standard teams countrywide. Trading standards officers are determined to implement a further enforcement action, in cooperation with Staffordshire Police.
"Tobacco detection dogs", as said by the dogs' provider for the operation, Stuart Philips,
"are the most efficient means of locating hidden illicit tobacco products. Our dogs have
located over £12 million worth of illegal tobacco with over 104 trading standards teams
across the UK in the past five years."
Anyone with information on illicit tobacco sales can contact the trading standards team
confidentially on 01785 330356.