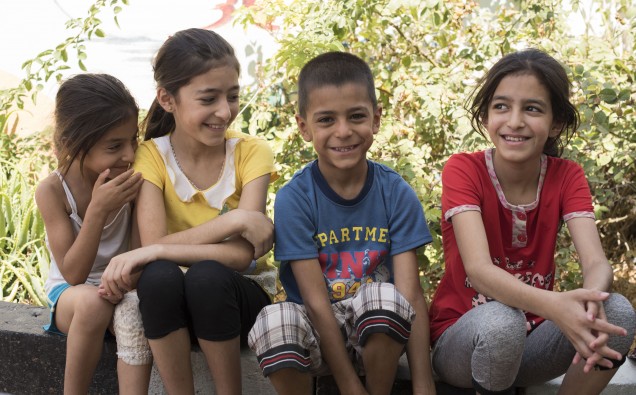 A country that once had a population of just over 3 million is now a global sanctuary for over 10 million as refugees from Palestine, Syria, Yemen and even Iraq risk life and limb to make it to safety fleeing war, poverty, persecution and conflict.
When speaking about MRI's work in Jordan, Founder & CEO Tas Hussain said: "People we met in Jordan described themselves as the forgotten refugees, some who have been here for just a few months, others a few years and others still for a generation or two but the daily struggle for survival, the lack of basic emenities such as food, medicine and water and the subsequent lack of hope was painful for us to witness."
The group met with one mother of 6, Hamida. Fleeing Syria with her 6 children, she hoped her arrival in Jordan would mark a new beginning for her and her family. However, 1 night, their tent caught fire and 5 of her children tragically died leaving only
13-year-old Muhammad behind. With no money or hope for her son's future, Hamida was forced to find whatever scraps she could to feed herself and Muhammad.
This was until MRI volunteer Jackie, known locally as the Mother Theresa of Jordan found her and began to provide her family with a food parcel every month thanks to MRI donors in the UK. Reflecting upon the first time, Jackie met Hamida she said: "In my 47 years of charitable work across the globe, I have seen many tragedies, but few can compare to the heart-wrenching plight of Hamida. I am just so grateful to MRI
donors with those who helped Hamida and Muhammad to eat 3 square meals every day."
MRI's Ahmad Boston, a member of the UK team who visited added: "Although the monthly food parcel we give to Hamida is a good start, we didn't feel it went far enough in helping to address in the most practical way possible her needs and those of her son. Recognising education is often the pathway out of poverty.
We decided to buy Muhammad a brand-new laptop that he can use to learn, gain some qualifications and hopefully provide for his Mother one day, making her proud and
bringing happiness to her heart once again, an emotion she has missed since the death of her Husband and young children that tragic night."
The team also met with 21-year-old Latifa, A Syrian girl who fled the country with her seriously unwell Father who suffers from renal failure. With no clean water to drink, Latifa's Father is in constant pain and discomfort as his body becomes weaker and his condition worsens. Aamer, a bank-manager by day and an MRI volunteer on the weekends said: "By 2040, Jordan will run out of water, every household in the country
is forced to ration water, but for people like Latifa who have no money to purchase a water-tank, the threat of cholera, typhoid and other water-born diseases is a daily
worry."
In response to Latifa's struggle, MRI has fitted her with a 2500 litre Water-tank containing fresh, clean, portable water and for her, Father MRI provides 40 bottles
of mineral water every month protecting him from the potential risks of consuming untreated water. Speaking about Latifa, Tas Hussain said: "For us, it is about providing immediate assistance as well as long-term sustainable solutions that will help families become self-sufficient one day.
This is why I have requested our Jordan team to acquire some chickens for Latifa so
she can use the eggs to eat as well as to sell on to create a form of income for her. We also continue to provide Latifa with a monthly food parcel and shall do so until it
is no longer needed." In addition to the many families, MRI supports locally in Daleel, they also support a specialist centre for children with disabilities in the area.
The centre, used by hundreds of families daily with children who are visually impaired, ortistic and mobility impaired has become a lifeline for not only disabled refugee children but also indigenous children with disabilities. Fatima, the centre-manager has been commended by senior dignatories across Jordan for her amazing work in helping children with disabilities, often overlooked and forgotten by society.
To this end, she has met with Her Majesty the Queen and His Majesty the King on numerous occasions. Discussing the activities at the centre, Fatima said: "We have over 1500 families with disabled children who live in the local area, many of whom visit the centre as a place of rest for the parents, a place of recreation for the children and a place of welcome for all. MRI's generous donations to our centre have helped provide a roof to shield the children from the burning sun, and MRI's recurring donation of food parcels ensure no family goes hungry after visiting our centre."
However, on this visit, MRI's UK team had a few special presents in store for the visually impaired children who visit the centre. Ahmad Bostan, blind from birth himself was determined to be able to gift something that would aid the development of blind and partially sighted children for whom even the most basic ability to read and write isn't possible.
Thanks to donations from the Royal National Institute for the Blind and local businesses in Birmingham, Medical Relief International were able to give the children over 30 braille books as well as two specialist Braille computers worth thousands of pounds in the UK, an otherwise distant dream for disabled children in the country.
At the gift-giving ceremony, Ahmad said: "I have become the successful professional I am today because of the support that was and still is available to me as a blind person living in the United Kingdom, it was incumbent upon us to share some of these facilities with blind children like eight-year-old Aisha and 21-year-old Randa whose life chances
have unfortunately been limited by the poverty that surrounds them.
I believe we live for a purpose greater than our own mortality and what we do for others
illustrates the level of humanity in our hearts, something we hope to be remembered
by." This December being the season of goodwill, festivities and charitable giving.
Medical Relief International kindly request local businesses to choose us as your charity of choice so that we can continue to help the world's most impoverished families including the disabled like those deserving beneficiaries featured in this article.
To donate, to contact us or to find out more information about our work please visit facebook.com/medicalrelief.org Instagram: medical_relief_international From The Refugee Camp To Medical School, Jacki's Contribution To The World's Forgotten.
While you and I spend our days trying to earn our daily bread for ourselves and our family, trying to climb up that career ladder, there are people who reside among us who live for a purpose greater than their own needs, desires and wants. While many of us may see poverty before our eyes but decide to walk on by, one extraordinary lady, known today as Jordan's Mother Theresa spends her every day searching the streets of Amman
for orphans to care for, widows to feed, refugee children to educate and impoverished
families to help.
Even the stray animals on Amman's streets are lovingly welcomed into her heart and home. Medical Relief International's volunteer Jacki has been enthusiastically engaged as a professional volunteer that has spanned 46 years of dedicated humanitarian
service in 19 countries, 10 of those years in the Middle East. Having begun as a medical student, aspirations quickly turned from hands-on humanitarian projects at the grassroots level to an all-consuming passion to bring solutions to those suffering
hardships of any kind.
This led to a lifetime of adventure, underscoring the veracity of the adage, "Nobody who has ever given their best for others has ever regretted it." This lifetime career has brought a wealth of knowledge in how to deal with humanitarian issues through personal experience, especially in developing skills to design & implement initiatives
to improve the health, safety & welfare of the underprivileged.
As our world has passed through the various crises over the years and seems on the verge of uncertain instability in many places, this is an on-going learning curve in teaching Jacki how to find creative solutions. It has also given birth to a unique
insight and empathy into the heart of the needy.
Some of the skills learned have ranged from youth counselling and those affected by drug abuse, providing encouragement through motivational publications, food security projects, a food bank, micro-businesses for widows, orphan assistance, scholarships for students, gardens for kids, water security in desert areas, emergency relief, medical
aid, aide for war victims & the displaced… and more.
The top of the list has always been about encouraging young people to build a better future, as young people are the key to new horizons and the prime resource
of any country. One of the greatest joys has been mentoring young people in volunteerism and watching them catch the "fever" to help & provide hope for their fellow man.
In fact, Jacki and her colleague and dear friend retired UN aid-worker Suhaad recently attended the wedding ceremony of a once refugee boy now a qualified engineer and a once refugee girl now a medical Doctor. She reached out her hand and handed me the business card, and during that moment, everything changed.
My name Amer Albakri, I'm a Palestinian working in Jordan as a banker. One day I met a great woman, Jackie, who told me about her work and her story. After hearing about some of the great work and projects that happened I made a big decision to help people and join in the work. This was one of the critical moments that added meaning to my life.
I started volunteering and got to meet and help people. I can still remember a woman's face when I handed her a food package, she looked into my eyes and said: "Thank you, now we have something to eat tonight!" I also remember the big smile of a little girl who received a brand new school bag. These are the moments that will stay with me for the rest of my life.
I work with an amazing NGO (MRI) who donate a lot of food packages to many poor people throughout the Middle East. Through their kindness and their generous donations, I was able to see hope in the eyes of countless people! When I see the joy, the laughter and the smiles I can truly say that I am alive! Life is so short, but we can make it worthwhile!
I would like to personally thank MRI and Jackie Scott for giving me these opportunities to help people. My life has truly been changed.