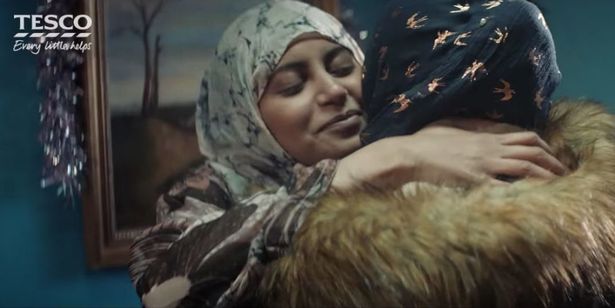 Residents of Birmingham are shocked by Tesco's Christmas advert after it featured a Muslim family. A lot of people have claimed to be offended by the minute-long advertisement, as it displayed a Muslim family getting ready to celebrate Christmas.
A lot of users slammed this advert on Twitter, by stated things like, 'How dare you feature Muslim's in your advert and that it's completely wrong'. Locals even mentioned how this country has become politically incorrect. Some have claimed that they will stop shopping at Tesco's. Tesco's fought back by saying that, they welcome everyone a Tesco, and that they are entirely proud of that the fact that their customers can all join
together to celebrate Christmas this season.
They also stated that the advert is aiming to show how food is the heart of the festival and how everyone comes along to celebrate Christmas together. Some Muslims have argues that they are not at all offended by this advert and in fact, they love to celebrate this holiday with their family every year.
Even atheists enjoy celebrating Christmas, as it's not a religious holiday for them, but a time where they can spend the day with their loved ones. Christmas has become a national holiday, and people all over the world are celebrating it, whether it's for religious reasons or not.
Residents have also claimed that this is all drama just for show and that people only moan for the sake of it. Even Jehovah witnesses have stated that they also celebrate Christmas and for them it's just a holiday where they get to spend time together as a family, opening presents and eating some delicious food. People agree that Christmas is about spending time with family, enjoying the holiday and sharing a love with family
and friends.
A resident stated that they think it's excellent that Muslims want to enjoy the festival with everyone, as reports say that even Christians have been known to celebrate Diwali and Eid, as it's all about everyone respecting each other's beliefs.
A lot of people have stated that they are not offended by this advert. Including Muslim's and non-Muslim's, as we are in Britain and in Britain today, there are a variety of different people living here, with different cultures and languages and we all want the same thing, and that's to make a decent living. Which is what being British is all about.