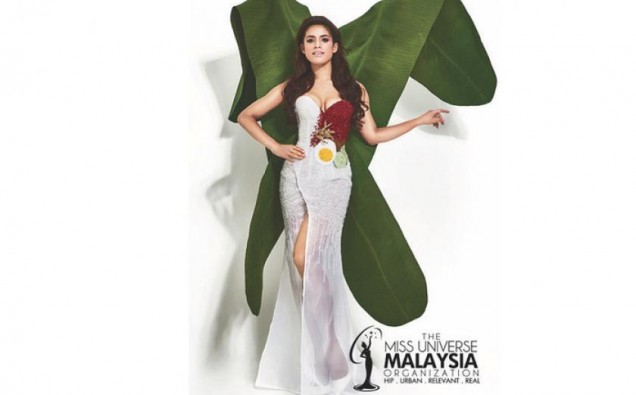 Nasi Lemak is a traditional Malay Rice translated as 'Rich Rice'. Rich is not referred to wealth, but it's the infused coconut cream and pandan leaves that makes it sinfully rich. The platter is served with fried 'Ikan Bilis' (local anchovies) accompanied with peanuts,
eggs, cucumber slices, and 'sambal' (spicy chilli paste). Sounds tempting and it sure is; it's even voted as the Top 10 healthy breakfast by TIME Magazine in 2016.
It's a nice thing to eat then why not a nice thing to wear? Well, that's what fired up the rich fragment of Fashion Designer– Brian Khoo's imagination, and he decided to cook up an outfit for Ms James representing Malaysia at the Miss Universe pageant in Las Vegas.
The hand embroidered Ivory Silk gown with beads represents steamed coconut milk rice. Sambal the spicy chilli paste covers a portion of the bodice in its sizzling red colour with a small spread of fried Ikan Bilis, with cucumber slices only to highlight it with a boiled egg design just above the navel. But that's not all.
The outfit is completed with silk fabricated banana leaves. It's homage to Malaysia's much-loved, revered and appreciated national dish 'Nasi Lemak'. Brian Khoo's fired up imagination stirred up a lot of Malaysian netizens who didn't have much of an appetite
for the outfit. Some commented
"It's good for a parade, not a beauty pageant" while some infuriated ones commented, "Things are getting way out of hand, please bring back the Malaysian costumes and make Malaysia proud". Amidst the entire controversy, you cannot turn a blind eye towards a beautiful creation whether 'It is Rice or Nice to Wear.