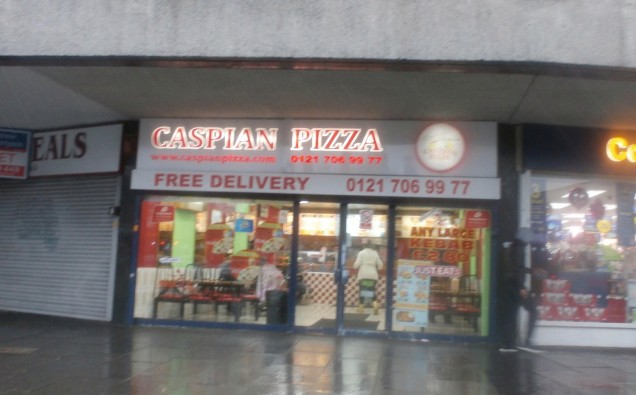 Caspian Pizza is a well known and popular household brand in the Midlands area, famous for its tasty and mouth-watering pizza. Caspian talks exclusively to Asian World about its humble beginnings.
Behzad, the original founder of the famous pizza company opened its first ever shop in 1989 in Birmingham, "I found a huge gap in the market where people from Muslim communities couldn't go out to eat and enjoy pizza. There were no Halal pizza options available to them anywhere in the UK. The only thing that they could buy was the vegetarian options from the main pizza outlets".
Behzad who has more than 40 years experience in fast food industry then went on to explain that at first, he found it difficult to source Halal meat products to use on their pizzas. They had to search far and wide and therefore had to import their Halal products from Denmark. Behzad soon became to realise that his venture took off instantly as more and more consumers were coming along and bringing their kids to purchase their products.
The name 'Caspian' originally derived from the sea, north of Iran and soon started to expand its business as they became the first Halal pizza franchise company in the UK. Behzad said "Because our food was so popular we couldn't cope with the demand and therefore decided to open up more outlets around the region to cater for a high increase in demand. We have now opened 38 branches in Midlands's area since opening our first shop 28 years ago. We are a happy, friendly and vibrant company that is expanding each and every year".
Behzad then went on to say that each year, they also look to improve the flavour of the pizza i.e. change of taste sauce, bread and pizza toppings. "We are constantly looking to innovate our products to ensure that we cook the pizza base freshly in the shop as well as all meats are cooked thoroughly inside, on the premises and most importantly in front of the customers.
"We purchase all of our meat from our local Halal butchers that guarantee freshness and quality. We are also the first company to put the prep fridge directly in front of our customers. We thought to show our customers what they will be getting. What you see is what you will get".
This year, Behzad explained they had introduced new pizza options to the ever-growing menu i.e. chocolate pizza, Popeye and Meat disaster. One of our popular pizzas is the Desi Pizza, which has a combination of meat toppings and flavoured with hot and spicy sauces. Behzad strongly believes that pizza is the healthiest takeaway that a customer can have.
Caspian Pizza is now looking for new opportunities in and around the UK; they are looking to introduce frozen pizzas within major supermarket chains and are currently looking to have some branches in Canada, Iraq and Kurdistan. Caspian Pizza is also proud to announce that they have been shortlisted as one of the finalists in the Halal Food Chain of the