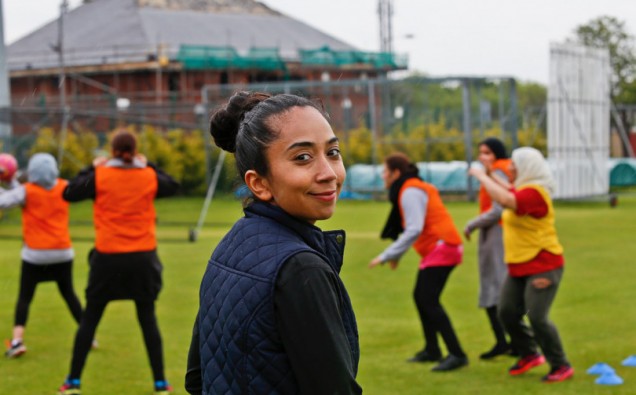 Saba Nasim, a British Pakistani female cricket coach led the first ever cricket game on Downing Street, as Prime Minister Theresa May was a keen spectator on the sidelines.
Popular cricket players such as Stuart Broad and Heather Knight participated in the game lead by Nasim, who is also an English Cricket Board (ECB) coach and a practising lawyer.
Chance To Shine charity organised the event which aims at motivating youngsters to participate in sports, whilst making a great impact to society. Nasim said "It's for the first time in the history of 10 Downing Street that cricket was played outside the famous
number 10 door and watched on by the British Prime Minister".
"The aim was to show people of different backgrounds playing cricket and to show that British Asians also have talent and that cricket is accessible for all no matter what your background. Some of my Pakistani girls were also playing and handed the PM a shirt as a gift."
Nasim received awards this year, which included Coach of the Year by Chance to Shine and the British Empire Medal by the Queen. They were given due to her services to cricket and for developing grassroot level cricket, to Asians in East London, especially for young girls.
Prime Minister, May said: "It's been a privilege to meet the young players and inspirational coaches today. The work Chance to Shine does, introducing young people from disadvantaged communities to this great, fast-paced version of cricket, is invaluable.
After the success of the England team in the Women's World Cup this year, I hope boys and girls all over the country will continue to be inspired to get involved with this brilliant sport." CEO of Chance to Shine, Luke Swanson said: "We want to show that the beautiful game is for all young people, and can be played anywhere.
What better way to do that than with a game of street cricket in the most famous street of all."