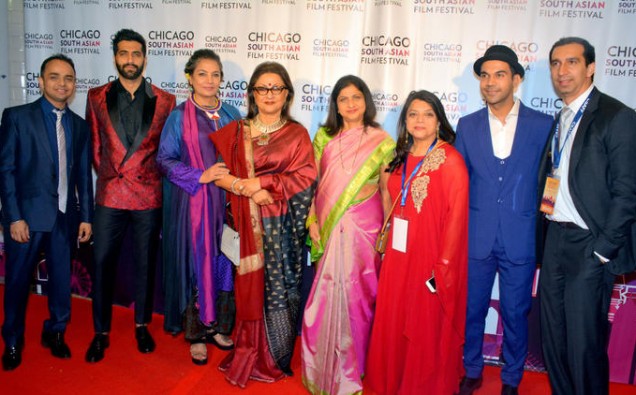 Ms. Azmi won the Lifetime Achievement Award at the Chicago South Asian Film Festival in Chicago, Ilinois. The Festival shows the best of independent South Asian cinema over three days. These three days contain film selections, major blockbuster events and personal film discussions with filmmakers and talent.
The festival was on in between the dates of September 29th and October 1st, showing 44 films at three venues.
Nearly 2000 people attended the festival and 55 film industry professionals broadcasted their work from all over the world. The festival opened up with a Red Carpet with stars such as Shabana Azmi, Akshay Oberoi, Adeel Hussain and Rajkummar Rao.
Alongside Shabana, Rajkummar Rao won the South Asian Films in America (SAFA) Award. The CSAF finished with an awards ceremony. The award was for the best short feature, short documentary, feature documentary and feature films. The winners of each award were: Maya, the Survivor, Many Rivers Home and You Are My Sunday. All of these films outline the various sides of the South Asian identity.
The Survivor told the story of a young boy who survived the 2014 Taliban attacks on a school in Pakistan. You Are My Sunday, shows the journey of a group of friends searching for their own space. The CSAFF aims to offer a diverse cultural
movie experience through South Asian films.